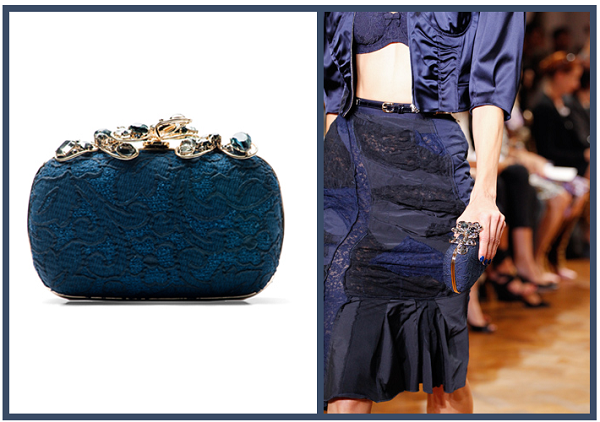 Lingerie plays a big role in Nina Ricci's Spring collection, and it's not just in the satiny bra tops and sheer slip-dresses that marched down the runway. Exquisite lace also came in the form of their accessories. The crowning jewel: this embroidered box clutch, so stunning it's worthy of any red carpet.
The best things really do come in small packages, don't they? I can't decide what's more mesmerizing about this little treasure – the touchable embroidery detail or the gemstone-embellished clasp. Calling it "embellished" actually feels like an understatement. It's curvy, whimsical, and all-out awe-inspiring. Opalescent jewels in varying shades of blue come together in an abstract floral shape, the perfect compliment to midnight-indigo lace.
Intricate and delicate yet striking and extraordinary. A clutch like this is to be cherished for life, so even if it only comes out on very special occasions, this piece a worthy investment.
Available at Elyse Walker for $1,790.
Visit the boutique (at 15306 Antioch Street, Pacific Palisades), call 310- 230-8882, or e-mail elyse@elysewalker.com for inquiries.
Pair with: Take a cue from Ricci's deliciously feminine Spring show and paint your fingertips a shade of brilliant midnight to match your clutch. Essie's aptly named Midnight Cami is the perfect shade. On Amazon
for $6.99.