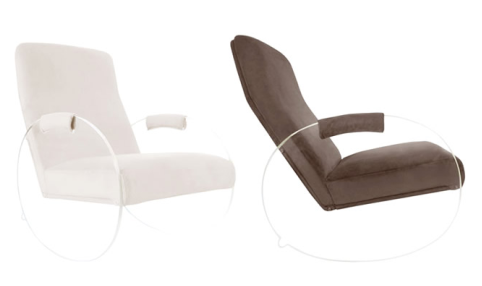 This is the coolest rocking chair ever! The crazy clear wheels and smooth seat make the Nurseryworks Vete Rocker look like it could roll away at any time, but that's what's so brilliant about this design. It has been created to produce the smoothest rocking motion you've ever felt (and no, you don't roll away or tip over).
With suave looks and an even more seamless feel, Nurseryworks thinks about the parents, as well as the tots. This acrylic is 100% recyclable, meaning it wasn't recycled but if you were to throw this out it could be (but why would you ever get rid of this? It can easily fit into your living room once the baby is out of the rocking stage. Actually, it's likely to end up being the most popular chair in the house). Micro-suede is easy to clean, so go ahead and get the white!
For the modern parent with modern aesthetics, this will fit in your home like a dream. And probably rock you and baby right into one. At Art Bebé for $1,850.