So Paris started with a bang, causing my credit card to self-destruct. After seeing what it has to offer, I'm falling hopelessly and deeply in love with several brands, and calling my divorce attorney for others.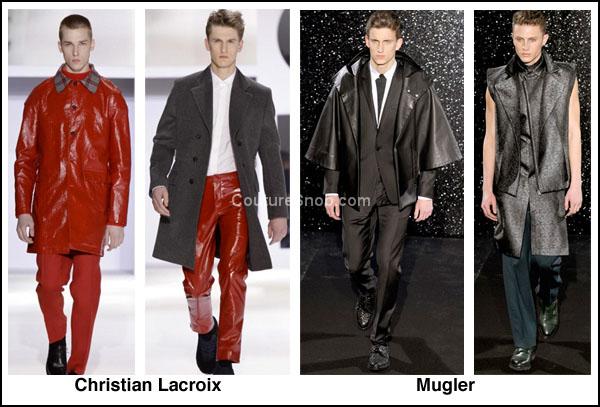 Let's commence avec Lacroix. The collection was all-in-all nice, and had a luxe feel to it, not to mention, a touch of minimalism. After seeing it, all I could think was not for me, but still unique. The tailoring felt somewhat baggy, which makes it difficult to imagine myself in. Now, I'm all for pride in one's homeland (and it's the homeland of a snob's favorite bag), but maybe not. Pretty, but interested.
Okay, I never thought I'd say: I liked Mugler. Okay, that's a lie… I LOVED Mugler. It was just so good, like the occasional addicting Lady GaGa song (Alejandro comes to mind here…). Nicola's capes were amazing, and totally wearable! It was like watching Superman come and rescue me. I've been meaning to hop on the cape trend, so this could be the one! And let's not forget the edgy, slick feeling that came with Mugler. As slick as oil.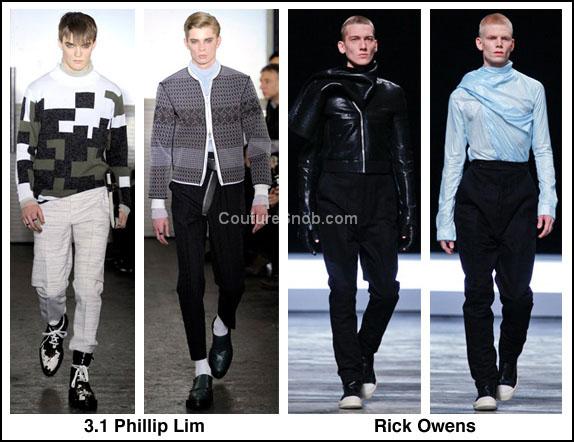 I always waver back and forth with 3.1 Phillip Lim. I love Phillip more than you'll ever know, especially with womenswear. With menswear, we're sailing on a whole other cruise ship. I thought the asymmetric accents were fun, and I liked the geometric sweater and coat. I felt like I was looking at a video game from the 80s, or better yet, BrickBreaker. It was nice since it would be perfect with lunch with the hip in-laws, or even a chic office (I don't do non-chic offices, so I assume that this would be perfectly fine). The one bone I have to pick is with the ultra-high waisted pants and belt, as they were rather awkward. Overall, this collection was good.
Rick Owens. Let's face it, the man is cool, and this was as cool as ever. Sometimes, just sometimes, I want to wear all Rick, paint my nails black, and be totally gothic in Le Merais. The clothes tended on the symmetrical, which means my heads not skewed, and there were a lot of light notes with white, and even a blue. I'm head over heels in love with his clothes.
For men, day-to-evening is a very difficult concept. Thankfully, Viktor & Rolf managed to pull this one off, and so much so, that this may be my favorite collection so far. C'est parfait! I want to see Brad Pitt in one of the tuxes. Terribly elegant and terribly necessary in ones life. Love the usage of fur, and it's not too much here! No man wants to wear an actual fur coat (sorry Kanye, please leave that at the coat check. Forever). There were hints of red that were both soothing and warm to the eyes, and the body it's on. The leather pants are super attractive, and they were designed to NOT show everything (I mean, really, I don't need to see every inch of you). The silhouettes keep you looking slim, yet muscular. Phew.
This season, Louis Vuitton managed to show something I was very familiar with: incredible shoes and accessories. Their menswear, however, always feels luxe, yet absent. I just need something with a bit more adrenaline. The tailoring felt very American, which lost me, since the slim Parisian look is amazing. The bags and the eastern-style looks got my attention, however, and the après-ski puffer jackets might have me skiing into a store.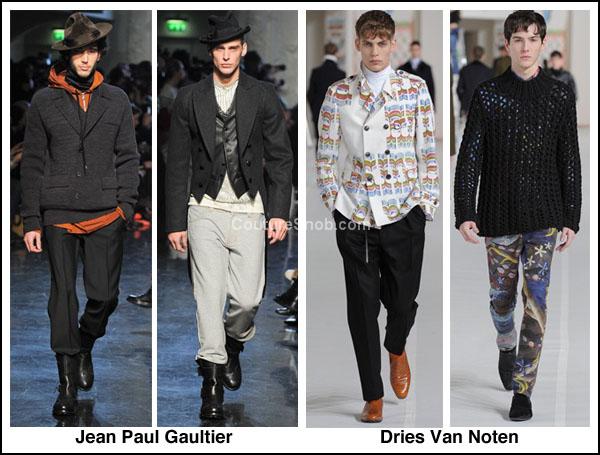 Another success was Jean Paul Gaultier, which screamed "cool" to me. I could eat it up all day long. The brick pattern was interesting and just the right amount of busy. And it gave the models a strong, yet fashionable look. I'd say, yes, to someone wearing these. It also hinted of equestrianism, which isn't surprising considering JPG's time with Hermès. Some of the looks were out there, but then again, this is Jean Paul Gaultier. Otherwise, sign me up.
Finally, Dries, and I like Dries a lot, but I just wasn't terribly excited by the prints this season. While he does almost everything right, this just wasn't the best usage of a print. Hoping for better things in the future, like always.