So for my final piece on the third and fourth full days of Paris Fashion Week for men, I figured I'd take a stab at stronger collections. Overall, it was a great season, with a lot of hits, a few poorly-aimed misses, and a need for even more outerwear (not at these shows, but in my closet)!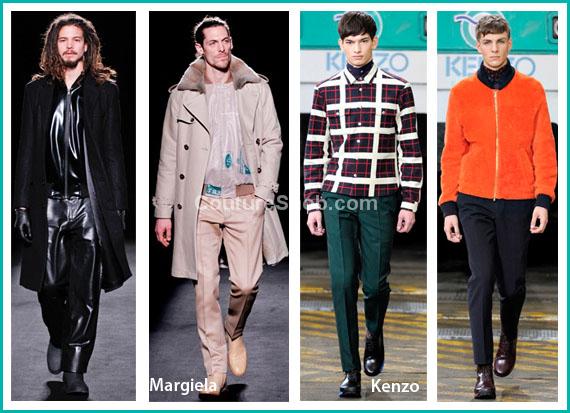 Define: cool. For me, that is Maison Martin Margiela. It was one of the first lines that actually managed to get my attention and respect when I was a child, and it still does to this day. While my taste is slightly more relaxed nowadays, I still look forward to what comes down this runway. Margiela doesn't tend to show the most practical of attire, but it's fun, and it showed us this season that we better be looking forward to a lot of camel, red, and black. Oh, and looking like a marshmallow. That too.
And then you have Kenzo. The oddest and most interesting gem in the LVMH empire. It was skewed towards the Opening Ceremony customer, which is good thing. It was without a doubt a quirky collection, and oozed sheer masculinity. Apart from giving me good vibes, it makes me want to join the coolest of hipsters who hangs out at the Chateau or the Boom Boom Room, drinking scotch, of course.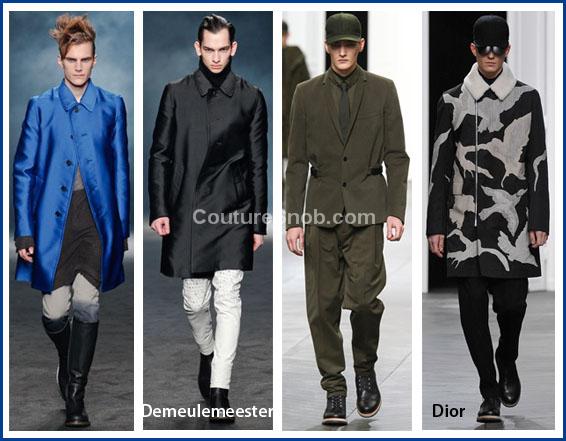 Ann Demeulemeester then showed, and boy did she do what I expected: awesomeness. She's the queen of all that is dark, and she's good at that job too. I wouldn't personally buy everything she makes, as she's not always my cup of black tea, but it doesn't mean I wouldn't buy separates. She's sharp and point-on, like a needle.
So while John Galliano's departure from designing women's RTW at Christian Dior has provided for quite a circus, menswear is smooth sailing under Kris Van Assche (I was worried after Hedi left). When I say smooth sailing, I mean, duck and cover for grenades, because this collection screamed designer military. And I might enlist. The greens were beyond sexy. The shoes may be my favorite part of the collection, and the bird prints were my favorite print of all of mens this year so far. They were absolutely perfect.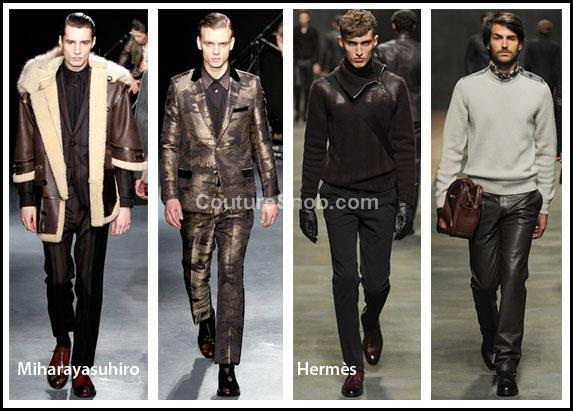 Okay, so as far as mens goes, there are very few "unknown" or "young" designers, but one of my favorites that doesn't attract enough publicity is Miharayasuhiro. I remember them always for their generous, yet conservative usage of fur, and boy, is it fantastic. There was some fur, and I'm coveting 'em. There was some plaid that lost me, but then again, I'm not the biggest plaid fan. Investment quality though, boys, and I would say you'd be pretty chic and street-style worthy…
Crocodile… leather… oh, it's only Hermès. The most luxurious of the Parisian houses dressed the boys in a collection that makes bank accounts drain, and crocodiles cry. This is magic though, and the way the clothes were fitted was fantastic. Hermès only does perfection, and Véronique did it again.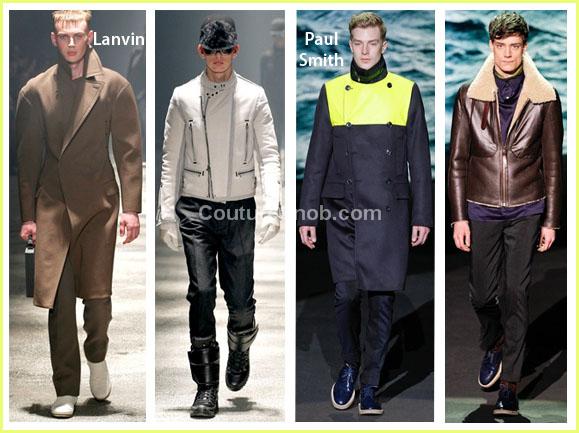 Alber Elbaz is lucky to be blessed with Lucas Ossendrijver at Lanvin. The head of menswear knows how to make men look young and dandy, not to mention, VERY French. He outdid himself this season, and it screamed comfortable chic. Actually, I'd say it whispered it… And, since it was Lanvin, the accessories were a strong point of the collection. The hats were fun and furry, and the clothes mixed both the traditional and contemporary. C'est chic!
And we finish with the Englishman: Paul Smith. A man whose history of design has been magical, and quite colorful/rainbowtastic. Neon accents lit up my life and were a brilliant (literally) touch. Prints were somewhat odd, but not obnoxious, which is always a treat. Tailoring was perfect (duh). And it was young, hip, and meant for the East End of London, or the East Village. Your choice.
That's it for Paris. Until New York, may you make smart, informed sartorial choices. Au revoir.