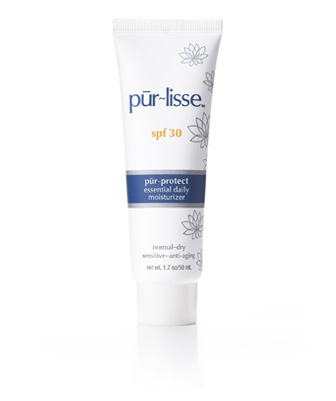 My New Year's beauty resolutions: drink more water, don't fall asleep with makeup on, and don't skip the sunscreen! I am actually pretty good about all of these, but, of course, there is always room for improvement. Especially in the sunscreen department (which should not be missed, not even for a day). I love my tinted moisturizers, but some mornings I don't want to bother with the mess on my hands afterwards. It wouldn't be much of an annoyance if I didn't always feel somewhat compelled to then put on mascara and eyeliner (since I'm already halfway there to being made-up, why not?).
Pur-Lisse Pur-Protect is the perfect, easy, lightweight, no-fuss, no-muss moisturizer with SPF30 included. It is so feather-light and fast-absorbing that I can put it on while literally walking out the door. In fact, I keep a travel size container in my bag in case I do forget. I can then apply it with confidence that there won't be any greasy aftermath on my hands, or worse, tinted stains.
I also love the purity of this line, as the name suggests. There is no heavy scent (or any at all), and it keeps your skin completely hydrated, soft, and protected from UVA and UVB rays. So, forget all your fancy serums and anti-aging creams if you aren't doing the first step: prevention! Sunscreen is your number one secret weapon against aging. And I love having the Pur~lisse option that allows me to be lazy yet protected!
Since this product is so well-received and always sold out, I had to beg Jennifer, the amazing Creator and CEO, for one! It's bound to be back in stock soon – so keep checking back and then stock up! At Pur~lisse for $55.