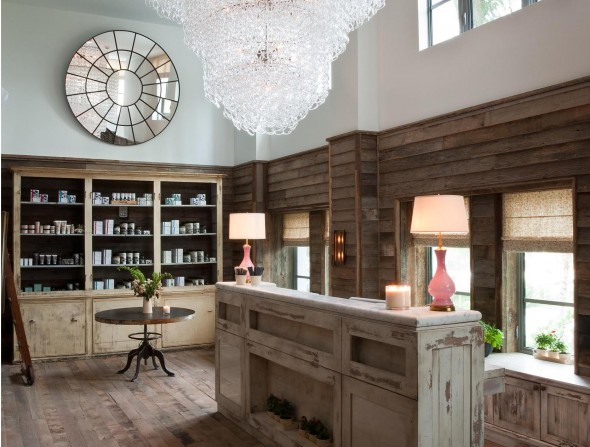 I just got back from a quickie four day trip to Miami and aside from the four hour delays there and back (American Airlines is the worst!), the trip was fantastic. I rarely got out of my bikini and spent most of the day getting various spa treatments, relaxing by the pool, or shopping. By the end of the four days of 75 and sunny weather it was hard to remember why in the world I live in Manhattan! While I would be more than happy to relax with an iPad at an outdoor Lincoln Road cafe for four days, what made my mini vaca so fantastic were the two spas I went to while I was there and they couldn't have been more different from one another.
First up was the Cowshed Spa in the Soho Beach House. When I'm in Miami I stay at my parent's place, which is right in the center of all the South Beach action on Lincoln Road/Collins Avenue so I had to take a cab to Soho Beach House since it's located a bit out of the center (if you're familiar with the area it's right by the Fontainebleau). Being removed from the main hustle and bustle makes Cowshed all the more serene. Since Soho House is a members-only club with locations all around the world their spa is only accessible to members, their guests, and hotel guests and I don't doubt that once you check-out the crowd and the digs you'll want to join the club! In fact I'm told by a friend who lives in Miami that their rooftop lounge is THE hot spot in Miami Beach, but I digress…back to the spa! The Cowshed is separated into two two floors, Cowshed Active and Cowshed Relax, and it includes a fitness room, a grooming center, a shop that stocked with Cowshed beauty products along with fashion and accessories, and treatment rooms. The decor is rustic-chic with lots of dark wood so that you almost feel like you're in a swanky Upstate cabin. I had a massage while I was there and let me tell you I felt like a new person. The therapist let me smell various oils before my treatment started and we went over how much pressure I liked so that there were no interruptions throughout the blissful 90 minutes!
The next day I strolled over to the Delano, which is in my opinion hands down the coolest hotel in all of South Beach. It's right near my parents place smack in the middle of all the hottest restaurants, bars, clubs, and shops and even though it has been around for years the decor is unbeatable. Seriously even if you don't stay there or don't go to their spa (open to non-hotel guests), it's worth checking out. Unlike the dark, rustic feel of Soho House, the Delano's Agua spa is all white. It's located on the PH floor of the hotel and has a gorgeous roof deck that overlooks the beach where you can lounge after your treatment. The all white decor makes it instantly soothing, but if you're going in peak daylight it makes it a bit hard to zone everything out while you're getting your massage since it's hard to get the room dark. That said I had one of the best deep tissue massages I've ever had there. My therapist not only helped work out some of my major knots she stretched my body in various directions to loosen things up. Even though the treatment was painful (after it was done the therapist exclaimed "wow you're brave!" because I had her apply so much pressure), it was relaxing — not an easy thing to achieve.