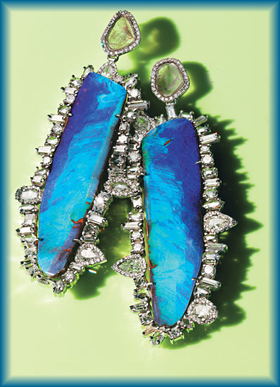 The most enticing aspect of the gorgeous and offbeat opal stone is its fantastic internal structure that makes it diffract light – it can take on a multitude of different colors, depending on the conditions under which it formed. From piercing shades of electric blue to gentle periwinkle to fiery red, opal is sometimes unrecognizable and always mysterious.
Just look at Kimberly McDonald's insanely fantastic black opal earrings – with such striking radiate hues of blue, the effect is out of this world. Inspired by her spellbinding pieces, I've picked a few of my favorite takes on opal, so you can do some hypnotizing of your own. But you've been warned: the supernatural opal doesn't come for cheap!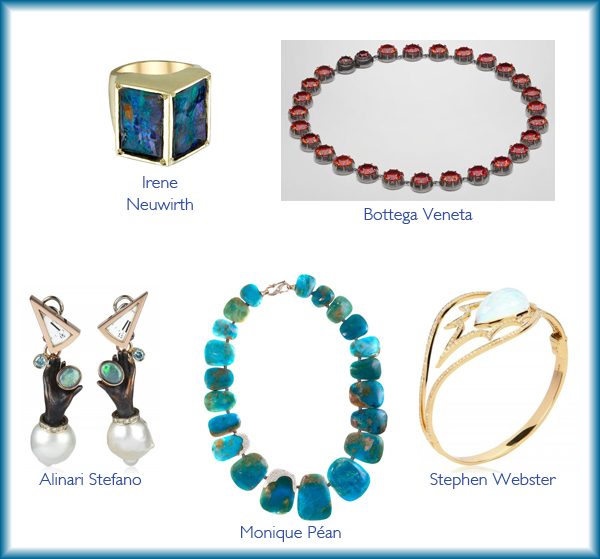 1) Irene Neuwirth Boulder Opal Ring: A pair of boulder opals sit at a perfect angle; framed by smooth yellow gold band, they stand out even more than they ordinarily would. This piece doesn't just look one-of-a-kind – it actually is. At Barneys New York for $10,450.
2) Bottega Veneta Fire Opal Black Gold Teck Necklace: Fire and…ash. This spectacular collection of 28 fire opals is offset by blackened gold. Around your neck, this is sure to set eyes – and hearts – ablaze. At Bottega Veneta for $69,200.
3) Alinari Stefano Hands Earrings: The artsy side of opal! As if the stone wasn't wild enough already, this kooky blend of angularity and opulence will speak to stylish eccentrics. On Luisa Via Roma
for $16,651.
4) Stephen Webster Explosion Cuff Bracelet: Despite the name, this opal is as breathtakingly light as they can get. This sparkling shape lights enough spark to elevate your look into another realm. On Luisa Via Roma
for $28,439.
5) Monique Péan Peruvian Opal and Diamond Necklace: Bold Peruvian opals, highlighted by 1.10-karat white diamonds, look like they came from another planet – one that's far more glamorous than ours. At Barneys New York for $15,820.