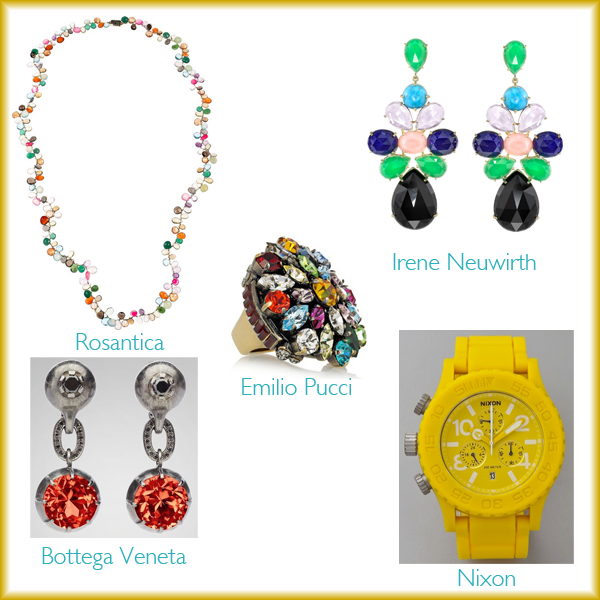 Don't leave the color just to your bags, shoes, and couture – why should they have all the fun? Jewels aren't just about white diamonds and neutral metals. So get brave with it, and spread the color around; my top picks are all different types of jewels. Just don't wear them all at once or you'll look like a rainbow exploded on you…which isn't necessarily a bad thing.
1) Rosantica Pacifico 24-Karat Gold-Dipped Multi-Stone Necklace: Fabulous dots of amethyst, citrine, jade and smokey quartz beads come together on an extra-long chain. Whether you loop it for a layered effect or let it hang loose, it has the enlivening effect of celebratory confetti.
On Net-a-Porter
for $925.
2) Irene Neuwirth Mixed Stone Drop Earrings: A multitude of colorful stones makes even an ebony centerpiece look refreshing and energetic. Turquoise cabochons, pink opal, chryopase, onyx, and Rose of France all come together like the buds of spring.
At Barneys New York for $10,820.
3) Bottega Veneta Madeira Citrine Black Gold Diamond Teck Earring: Madeira burns bright and beautifully, especially when rich color like this is enhanced by solid blackened gold and 34 little diamonds on each earring.
At Bottega Veneta for $8,000.
4) Emilio Pucci Crystal Ring: Trust the King of Prints to deliver a hue-packed mash-up that will read like cocktail couture. This cluster of crystals glitters with every color of the rainbow.
On Net-a-Porter
for $490.
5) Nixon The Rubber 42-20 Chrono Watch: Get in on spring's surf-and-scuba trend with this super-sporty watch. Bright yellow is an unexpected choice that will add cool quirk to your casual looks. Pair it with classy sparkle for an eclectic tone.
On ShopBop for $375.