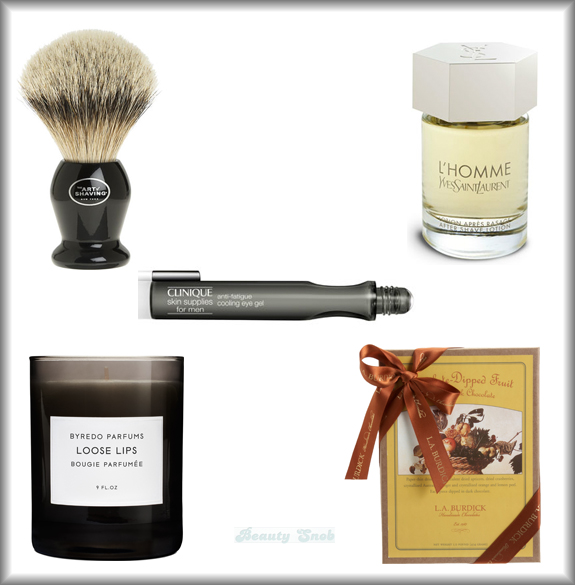 So Valentine's Day is on the horizon like a shark in the water, and you don't know what to get an important guy in your life. Well, I've got news for you: he wants to be pampered! While we may not admit it, guys like to feel and look good too! So here's a go-to list for the modern man who could use a little love on the 14th.
1) The Art of Shaving Silvertip Badger Brush:
Every man needs a quality badger brush for when they shave, and this is the perfect one. To another male, the quality of a shave is not hard to perceive, and anything that produces less of a shadow is a necessity. Oh, and its design is attractive too, natch.
At Barneys New York for $180.
2) Yves Saint Laurent L'Homme After Shave Lotion:
So you got him that amazing brush. Now what? Well, he needs an awesome after shave lotion! L'Homme is personally one of my signature scents, and it is perfect and sexy for all hours of the day! Not too strong, but not subtle either, this is the ultra suave after shave every guy needs.
At Bergdorf Goodman for $48.
3) Clinique Anti-Fatigue Cooling Eye Gel:
Let's face it: men like to go out, and sometimes, they don't know their limits. We've all seen and felt this way at some point, but for some reason, it's painful for the eyes (both his or hers and mine, since puffiness is not a good look). So Clinique came out with this magical product – a hangover cure for the eyes – that should be in every guys toolbox.
At Bergdorf Goodman for $26.
4) Byredo Loose Lips Candle:
They say that scent is the sexiest sense of the body. When activated by something pleasing, it changes the way you act and think, and men are not immune to this! Byredo, known for classic fragrances, also produces amazing candles. The luscious Loose Lips Candle (with strong notes of rose water, violet, morello cherry, rice powder and oris butter) will relax any guy's nerves.
At Barneys New York for $65.
5) L.A Burdick Chocolate-Dipped Fruit:
And finally, the guilty pleasure for all: chocolate! Chocolate is a known antioxidant and is also known for reducing cholesterol and blood pressure. These healthy fruit "snacks" are sure to give your man a wonderful sugar high, and will keep him smiling for many a Valentine's Day.
At Barneys New York for $46.