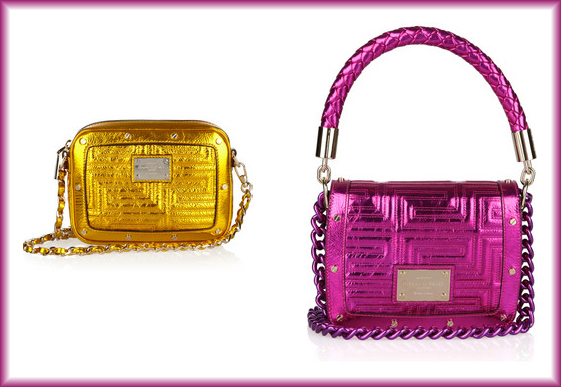 Versace stands wholeheartedly by their Italian routes, and there's no doubt Italians often like to flaunt their love of the molto flashy. Their new metallic bags look like they were plucked out of the glitziest casino in Vegas, rather than snatched outside the runway shows in Milan. Lamb leather has been embossed in their signature palazzo pattern, but the fine stitching takes a backseat to the electricity of this shine. These bags almost look as though they are plugged into their very own outlets. It would all be too tacky if Versace were not in on the joke themselves. With a blatant metal plaque reading "Gianni Versace" sitting front and center, as well as monochrome chain-straps, these bags are broadcasting a major early-nineties glamour revival that only the house of safety-pin dresses, navel-baring gowns, and chain-decked everything could get away with. I wouldn't expect anything less than più, più, più! What do you think, Snob or Slob?
Metallic Leather Shoulder Bag in Fuchsia
On Net-a-Porter
for $1,625.
Metallic Leather Shoulder Bag in Gold
On Net-a-Porter
for $1,095.