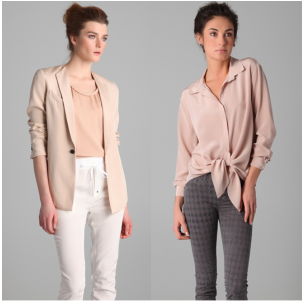 Coquette loves the soft new color for spring – blush.
Inspired by the Prada runway, Stiletto Jungle is featuring gorgeous green handbags for Spring.
Susana Bettencourt Cord Choker Necklace's dramatic beauty makes a statement without overabundance. At JewelSnob.
Brad and Angie stopped by the White House this week. Allie is Wired has the pictures.
Second City Style lists New Year's resolutions from a woman who usually doesn't make them in Fashionattitude.
TotSnob is shocked when she read about Texas Schools Policing Children.
Bold. Saturated. Womanly. François Nars's latest color collection is all those things and more. Find out more about the NARS Spring 2012 Collection + MUR Water at BeautySnob!
Welcome these friendly heights that promise to treat your feet nicely without sacrificing devastating good looks. At ShoeSnob.
The Beauty Stop previews Jason Wu for Target.
Winter isn't over yet.V-Style shows you the best black boot option.
Enter the shorts suit, next season's answer to the modern woman's wardrobe craving. Mix it, match it, take it and run with it – whichever of these you choose, you'll be a step ahead of the girls wearing trousers and pencil-skirts. At CoutureSnob.