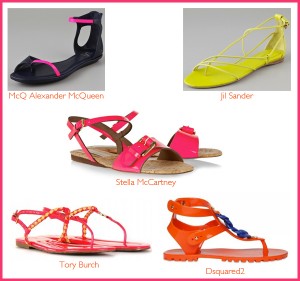 Who says flat sandals have to be all earth mother or hippie chick? With electrifying splashes of DayGlo, a new breed of sandal is making a statement this spring, one that's, in fact, not exactly new. These Top 5 Strappy Neon Flats are totally rad – and totally eighties. At ShoeSnob.
Stiletto Jungle shows how pretty color will take center stage for Spring, just like it did at the Rodarte show.
Allie is Wired covers the launch of Honest.com, Jessica Alba's new eco-friendly baby essentials product line.
Macadamia Healing Oil Spray gives your hair incredible shine, dampens down the frizzy ends and leaves it with a healthy bounce. At BeautySnob.
Coquette goes geeky gaga over Adafruit's LED iNecklace.
Fashion Pulse Daily discovers that the winter can instantly be made more tolerable when wearing a Wellensteyn jacket.
Deborah Pagani's Latest Jewels at BeautySnob is downright jaw-dropping. Deborah Pagani's sensibility is consummate, and so are her stones.
The Jet Set Girls are lusting after the sexy, new Trina Turks and Caicos Collection: bikinis, coverups and more exclusively for the Grace Bay Club.
Second City Style gives two points of view in He Said/She Said: The Celebrity Fashions of the 69th Golden Globe Awards.
Let your girl dress down – and let her T-shirt dress up! TotSnob found the Lotty Dotty Children's Shirt that does just that!
Golden Globes trend alert Charlize Theron stunned in her buff pink Dior dress Shopping and Info shows you how to get this look.
Attending the Rodarte dinner at the Chateau Marmont a few days ago, Kirsten Dunst perfected one of CoutureSnob's favorite combinations: mixed yellow with gold in a brilliant manner for a bit of nighttime glamour.
StyleBakery has the perfect remedy for the mid-winter blahs: a printed blazer.
The Beauty Stop checks out Dior's new scented nail polish.