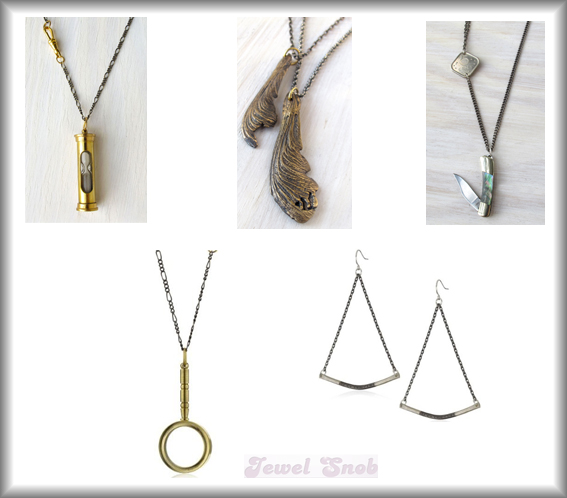 Inspired by shipwreck remains and treasures lost at sea, Ax + Apple is all for "making things like they used to." The result: super-cool, antique-y jewelry with an Indian vibe.
Each piece feels like a rare vintage discovery. Think casts of maple pods and sterling-silver bows. Necklaces with pocket-knives (the James II has an abalone shell handle), hourglasses, and monocles (I have this one – it's very handy!).
Sometimes I'm not in the mood to be blinged out, especially during the day – this is a great, easy way to throw on something totally unique but thoroughly casual. And these charms are bound to start a conversation. People like to make fun of my monocle (mainly my husband). At dark restaurants with small-print menus, everyone's like, "Hey, lemme borrow that!" Or they make some Monopoly joke. Fine by me!
Believe it or not, Ax + Apple is sold on Amazon for crazy-good prices – better than sample sale sites!
Sebastian Necklace
At Ax + Apple for $190.
James II Necklace
At Ax + Apple for $84
Hourglass Necklace
At Ax + Apple for $90.
Magnifier Necklace
On Amazon for $75.
Ariel Earrings
On Amazon for $115.36.