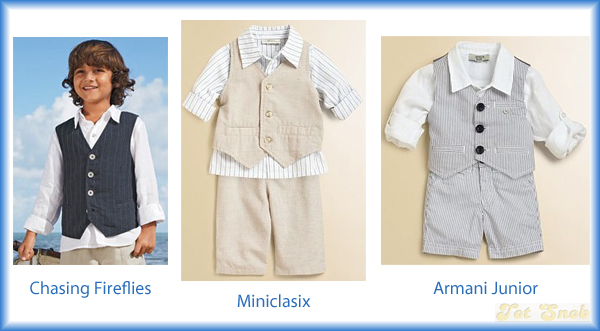 I don't know about you, but I love seeing my boys in dapper getups. Sure, I only have girls, but this is how I like to dress my nephew, and it is so beyond adorable! Especially with Easter coming, getting our little boys suited up doesn't have to be so hard or serious. A vest gets the job done and it looks more appropriate than full suits on little guys – a look that is not only uncomfortable, but contrived. So why not start them young with the cool look of a simple vest (It sure works for "The Mentalist" – and all the girls just love him!).
1) Chasing Fireflies Pinstripe Linen Vest: With welt pockets and back tab detail, it's class all the way. Made of linen, this classic pinstripe can go casual or dressy. And it's machine washable.
On Chasing Fireflies for $58.
2) Miniclasix Infant's Vest: Thiswill take your little tot to little man. The V-neck, button front in a tan cotton/linen mix has that hint of sophistication.
At Saks Fifth Avenue for $75.
3) Armani Junior Infant's Striped Vest: Why not start him on Armani while he's young? This has a contrast solid textured back, two welt vest pockets, and one welt check pocket – with the logo underneath. Made of yarn-dyed cotton, this one is a dry clean only.
At Saks Fifth Avenue for $135.