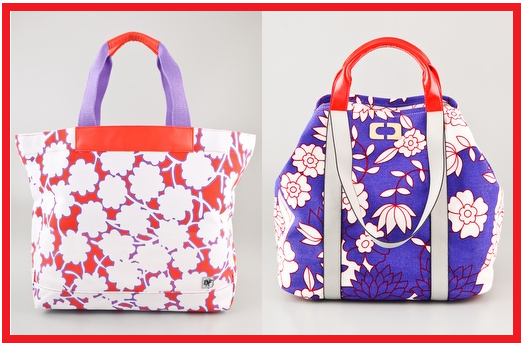 Diane von Furstenberg has yet to win me over in the bag department, but when it comes to her prints, I've always been a die-hard fan. So much so I am considering redoing my house entirely with her home collection. But let's not get hasty! I'll ease into things by starting with one of her canvas totes, in this season's most pleasing prints. Sunny, warm days will already put me in a good mood; with one of these perky bags in tow, I have a feeling I'll be elated.
I got the orange-coral beach tote
($98) for my week in Miami. From the vintage collection: The print is happy, gorgeous perfection for all my summertime travel plans. The periwinkle Kaya ($285) is just as beautiful but slightly more subdued – ideal for types who aren't interested in outshining the sun (not me!). With tropical-flower-inspired patterns, they both scream beach – the orange is great for the super-tanned, while blue is a better option for the fairer tones.
With toss-around bags like these, practicality is a major factor: the orange is a simpler tote, meaning a whole lot cheaper. We have a winner! I generally destroy my summer totes (last year I got a white leather 3.1 Phillip Lim tote that's made to look like canvas. Now it just looks grubby). Available on ShopBop.