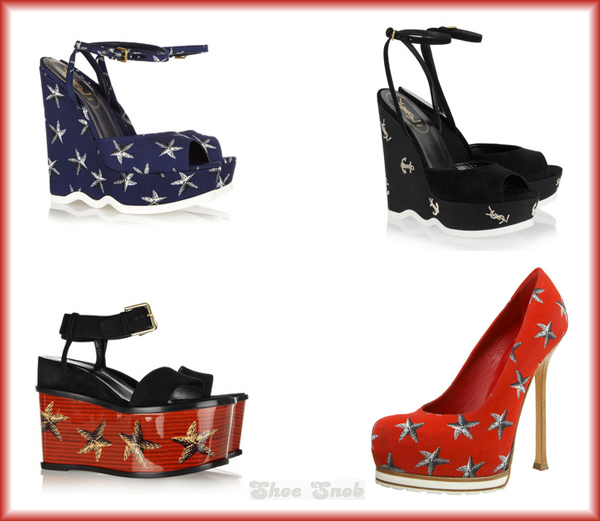 Stefano Pilati clearly has no fear of sea-sickness. It looks like Yves Saint Laurent has hit the high seas this season with seafaring designs as bold as a cannonball. Starfish and anchors have taken over their sandals and pumps, in the form of embroideries and printed patent wedges.
The motif is so blatant, so specific, they almost dare you to find interesting pairings, like juxtaposing prints. Actually, choosing a contrasting theme is probably the only way to go. Don't stay keep the rest of your outfit in the Navy or you'll end up looking like Popeye. Challenge accepted! I can't wait to shake up my boat-wear with something unexpected. What would you wear these with?
Riviera Starfish-Print Canvas Wedge Sandals. On Net-a-Porter
for $745
Riviera Embroidered Suede Wedge Sandals On Net-a-Porter
for $795.
Suede Starfish Platform Wedges. On Net-a-Porter
for $1,365.
Star-Print Tribtoo Pump. At Bergdorf Goodman
for $895.