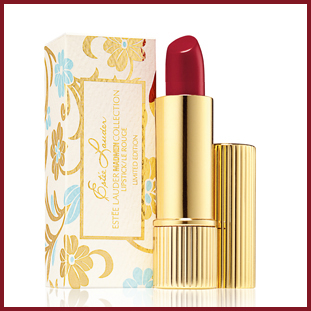 I'm more than obsessed with Mad Men, so even if this is a marketing ploy to get at easy, already-primed and eager consumers, I really don't care. Red lips are always hot, and this shade of cherry leaps right out of the vintage sixties and straight onto the list of current must-haves.
I appreciate Estée's attention to genuine detail (there is already something retro about the brand's makeup, to begin with): the case is even from the same era, released from their archives. It's nice to be an old company at a time like this! With a cream, satin finish and glamorous bullet, it will look as good on your lips as it does in your clutch.
Modern lips with old-fashioned sass and glamour: this is the perfect finishing touch, whether you want to be January Jones or Christina Hendricks (and if you said January Jones, I'm gonna have to bitch-slap you). Wiggle in your walk not included. Available for pre-order at Estée Lauder for $25.