Things are moving along here at New York Fashion Week and here's a look at some of the latest notable new beauty looks!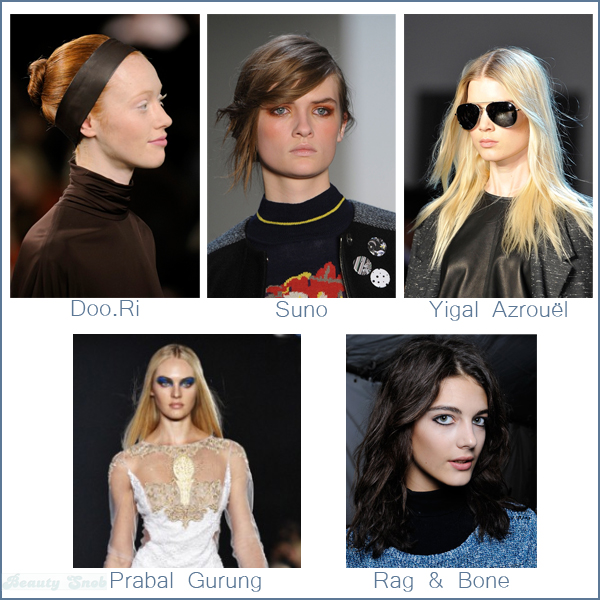 Rag & Bone: We've been seeing a ton of off-center parts thus far this season, but Redken's Guido Palau went for Rock-n-Roll-like center parted tousled hair at Rag & Bone (resulting from a combination of mousse, paste, and twirling pieces of hair with fingers). As for makeup it stayed true to the minimalist trend most designers seem to be going for this season.
Yigal Azrouel: This is my favorite look so far. If only I could look this cool! And if only my roots looked this good when they start to grow out… I never thought I'd be someone to opt for a pale lip, but more often then not these past few months I've been applying a light lipstick (usually Tom Ford's Vanilla Suede), making this look all the more appealing.
Suno: Kudos to Suno for not only making bold prints look fantastic, but for having the guts to allow their models to walk out with ample amounts of rusty shadow — not easy to pull off without looking strung out. Not only did the models look fantastic, the eyes worked amazingly well with this season's print-astic Suno collection.
Doo.Ri: Is the headband slated for a comeback? Maybe. We've been seeing them a lot on the red carpet lately (think Michelle Williams, Charlize Theron…). I for one wouldn't mind.
Prabal Gurung: To die! I love the intensity the shadow up to the brow brought to the collection, but sadly even though the models looked fantastic, I can't imagine a context where this would work off the runway.
Images: NYTimes, Imaxtree, style.com, Telegraph