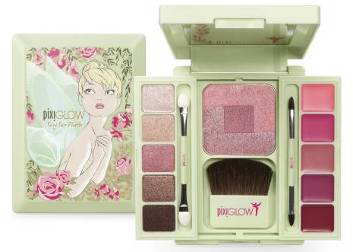 Pixi and I go waaaay back as it was one of the first brands I consistently bought when I was in High School. I first discovered it at Henri Bendel, but about a year into my obsession they discontinued the range and Sephora picked it up. Another year or so later Sephora discontinued the line and no one in the U.S. stocked it anymore! This was pre-e-commerce being commonplace so the only way for me to get it was in London at their boutique. Luckily I have a lot of cousins living in the UK so I found myself in London frequently enough to stock up. Eventually though I ditched my Pixi compact in favor of NARS and Chanel, which at the time were all pretty much the same price. Fast forward many years and Pixi is now stocked at Target and costs nowhere near what it once did! Luckily (or not…), price doesn't always reflect quality because their products are still great and now they've teamed with Disney for a limited edition Tinkerbell-themed PixiGlow makeup collaboration.
The line won't be in Target stores till March, but it just hit the web so we can all stock-up on these adorable products, which I think more than give MAC's Superwoman collection a run for its money.
The PixiGlow collection includes:
o Catching Shadows Crayon ($18.00) – a waterproof cream-to-powder eye crayon
o Fairy Dust ($14.00) – a glimmering loose dust that can be used on skin, eyes or even lips
o Fairy Face Palette ($34.00) – a palette that includes 5 eye shadows, 3 color blush palette, 5 lip creams and applicators
o Magic Tink Tint ($16.00) – a gel crayon that tints your lips
o Straight On 'til Morning Liner ($15.00) – a waterproof pencil liner in deep green and glitter
o Pirouette Pink Nail Colour ($8.00) – a bright pink nail lacquer with just a touch of shimmer
You can check-out the entire collection here. I don't know that I would go out parading a Tinkerbell palette at my age (I wish I had a niece or a friend with a young daughter to buy it for!), but I've tried the eye crayon and lip tint and they're both worth getting if you're looking for something that's no-muss, no fuss when you're on the go (and I love the chunky-ness of both…the eye color is good for that "no makeup" dewy look). They're also super-cute without being overly childish.