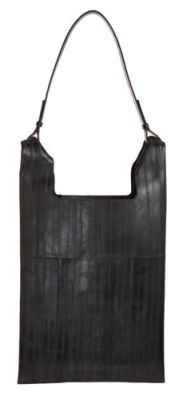 I'll usually take an order of dragon rolls over an eel-skin bag any day. The skin doesn't usually speak to me (while I can't get enough stingray or python), but when it's done right, the peculiar sea creature can look A-OK.
Like now. Jil Sander has managed to make eel look absolutely alluring. Their touch gives the skin a naturalistic, modern feel that's not unlike dark panels of grainy wood. More importantly, I am fascinated by the odd shape of this bag. At first, I balked at the striking similarity it poses to a wine tote, but this is wider and that makes all the difference. Super-slim and flat with angular geometry, this will be impossibly sleek by your side and that kind of pin-thin shape makes it unique enough to stand out among traditional totes. At Barneys New York for $1,250.
Pair with: Soften up a stern-silhouetted bag with a rouched silk crepe de chine dress. Thakoon Addition's turquoise dress, with his trademark draping, has a tunic-like feel for daytime ease. On Net-a-Porter
for $530.