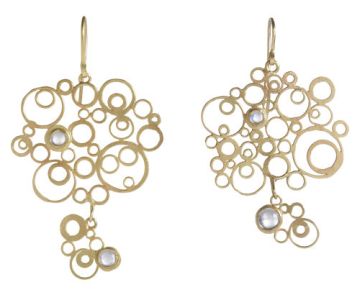 Having a bubbly party? You must wear these bubbly earrings! And even if you don't have any magnums of Dom Perignon or Perrier-Jouët on hand, these high-spirited earrings by Judy Geib might motivate you to hit up the wine shop and invite your snobbiest friends over for a toast.
Bouncy, buoyant, open bubbles are totally whimsical, but in brushed 18-karat gold they are also absolutely sophisticated. What gives them that special something: they are adorned with perfectly coordinating moonstones, a dreamy gem that is also effervescent by nature. I especially love the way the two sides don't exactly match; it makes the bubbles look organic. So gorgeous and eye-catching – and entirely fun. At Barneys New York for $1,375.
Pair with: Splash your Champagne with a strawberry, courtesy of Preen Line's yummy fuchsia Sonjia shirt – this silk-satin tee (with a navy jersey back) is finished with red chiffon sleeves, for a total framboise effect. On Net-a-Porter
for $305.