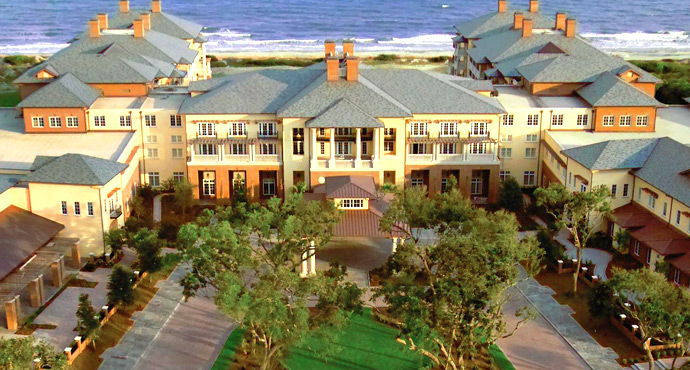 Kiawah Island Golf Resort, located 45min from Charleston, South Carolina
Have you ever heard of Kiawah Island? If not you'll likely be hearing all about it this summer if your husband/boyfriend/friends are into golf because the Kiawah Island Golf Resort is hosting the 2012 PGA Championship. Last week, before all the NYFW madness began, I spend four blissfully relaxing days at the resort with my father who's a big golf fan (seriously he goes around calling himself Tiger after a good game…), and let me tell you if you're looking for a Valentine's Day gift your loved and YOU can enjoy — book some time at this resort this year! I don't care much about golf or tennis (the two main activities there), but not only is this resort located beach-side, they've got multiple outdoor and indoor pools along with hot tubes, a sauna, a steam room, fitness classes, and one of the most luxurious spas I've ever been to. Not to mention countless restaurants including a Forbes 4 Star and AAA 4 Diamond rated one. Honestly I would have never expected food to be amazing in South Carolina, but not only was it fantastic, if you so choose, there are many healthy options (if only I had opted for them and not the foie gras in a grand marnier blanket…).
If you're in a relationship with someone who is always nagging you about not being into golf/tennis or simply in a relationship with someone who loves those sports this is the perfect faux-selfless gift (does that sound awful!?). Let the men enjoy golf and you go luxuriate in the spa! Or if you're single, it's a great place to go with a friend for a spa/beach weekend out of it (it was a nice alternative to Miami, which is where I usually go to de-stress).
On my first day there, after spending some time sweating out my toxins in the steam room, I indulged in the resort's signature body wrap massage. Basically the therapists strategically places heated, grain, and herb filled wraps on your tension areas while you get a full body  massage. The wraps smelled amazing and I'm a heat lover (who is still ALWAYS cold!), so it was perfect for me. All I can say is spending four days almost entirely unplugged from the stresses in my life was an amazing treat that I'm very grateful to have had. I should also underline that this resort is HUGE so if you do go get a car because while the spa, fitness center, pools, and some restaurants are in the main building, the golf courses and some of the other restaurants are a good 15-20 min drive (yes, the resort is that big…). Lastly I didn't do it while I was there because I was, well, lazy, but there are a ton of organized actives including bike tours and walks. Check-out the spa menu here.