The dark mood in Milan continues with some truly outstanding looks (see Prada for the ultimate wow!).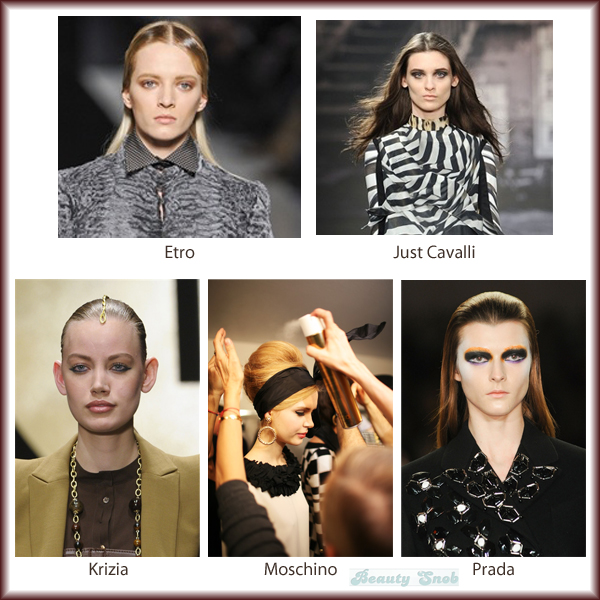 Just Cavalli: Not everyone may be able to pull off Cavalli's signature rock-n-roll-inspired animal prints, but loose flowing beach waves is a style countless women can get behind. Bust out the big rollers ladies!
Etro: I didn't love the "crunchy" look of the hair here, but combined with the bare skin and neutral-toned eye it complemented this season's collection well. One can't go too wild with beauty when there are that many paisley patterns on the runway after-all!
Moschino: I'm a serious Moschino fan. I've been collecting their ready-to-wear and accessories since the 8th grade (when my mother got me a tote with an over-sized peace sign  fashioned out of safety pins, hooks, and eyes!). Needless to say I love most everything the brand does. This season models walked out with 60s-inspired dos, some of which were paired with black cowboy hats, while others were wrapped in over-sized black bows.
Krizia: Is it me or does this hairstyle look painful? New York runways had a lot hair looks which entailed pulling back the hair in an austere fashion and this just goes to show it's not an easy look to pull-off. As Orlando Pita told me at Derek Lam – you end up being "all face."
Prada: Wow talk about a stunning look! I honestly can't recall an eye as strong and as painterly as this one and I love how it incorporated colors from the collection. Hair was similarly awe-inspiring with extensions in a variety of colors added in.
Images: WWD, Imaxtree