From braids to architectural men's-inspired hair, here's a look at the latest from the Milan runways.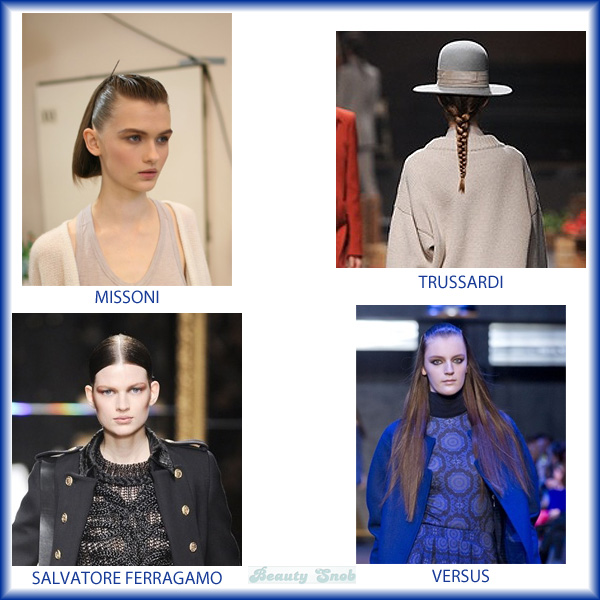 Missoni: Thankfully the makeup was kept bare because there was A LOT going on in the collection this season. That said I was surprised at how architectural they went with the hair. Eugene Souleiman said he wanted a "handsomely groomed woman," which explains why the sides were brushed tight to the head and covered with mousse.
Trussardi: We've been seeing a ton of braids wrapped around models' heads this season, but this marks the first straightforward take on the hairstyle. Works well under a hat, no?
Versus: Whether designing for his namesake brand, J Brand, or Versus, Christopher Kane seems to know just what young women want to wear (at least those with confidence and an affinity for color…). In true Versace style the beauty look was rather aggressive and rock-like with pencil straight hair and charcoal-rimmed eyes.
Salvatore Ferragamo: A basic hair style here, but a powerful one. Nothing says I'm ready to kick butt and take names like parted at the middle, austerely pulled back hair. Personally I don't like this look though – it seems painful and I worry too much about hair loss to ever pull back my hair that tightly! It's perfect for a runway look when you want the clothes to take center stage however.
Images: WWD, Imaxtree