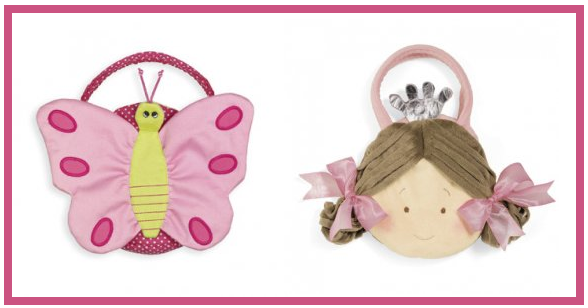 I am once again planning a birthday party – a year comes around so quickly! If you have a super-girly girl, these goody bags will be a huge hit. Since I always end up spending around $10 putting together assorted knick-knacks (it adds up easily), I have recently been opting to do one big item that makes a bigger impression.
My Princess Closet's Butterfly goody bag in pale pink, hot pink, and sunshine yellow is a breath of fresh spring air. This delightful tote is sized just right for a tot. The Fancy Prancy Princess bag is the cutest tote ever with her adorable doll-face framed with pigtails and big bows. And you can match this tote to your partygoer's hair color. Just add something small to these darling goody bags, like a lollipop or a hair ribbon, and you will have a party gift the girls will be raving about for weeks!
Butterfly Goody Bag, $12, and Fancy Prancy Princess Goody Bags, $10 each, on My Princess Closet.