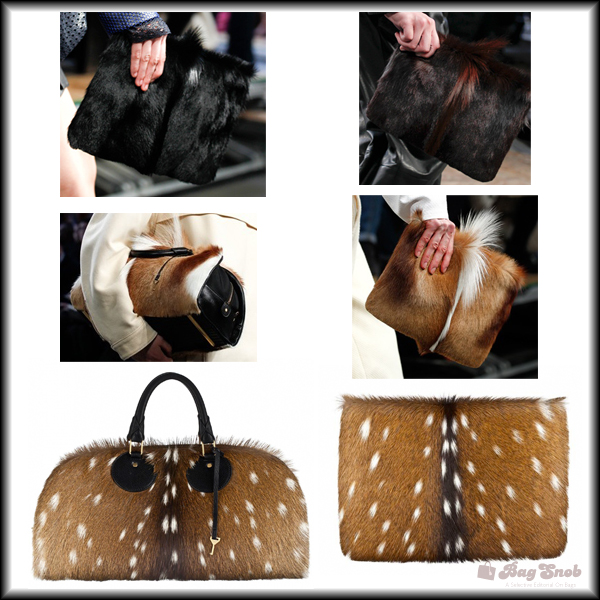 With the concept of "protection" in mind, Jack and Lazaro sent a glorious fleet of Samurai warrior-girls down their cool, bare runway. Their weapons? A selection of bags, the likes of which we have never before seen from Proenza Schouler's prolific accessories line. Bags that will make you say, "PS what?"
They were going for a look that is "Asian but in a New York way" – and they nailed it. What would be the perfect complement to crisp, oversized jackets of white cotton, full of angular lines to keep your eye stimulated; obi-sashed skirts and innovatively waxed woven leather; silk embroidery depicting traditional Japanese scenes of exotic birds; hard riding boots and mussed-up hair? Fur! But not fur in the plushy, fuzzy, snuggly sense.
This fur is hardcore – it looks like these warrior girls almost hunted their catch themselves. Deer and antelope skins right off the battlefield bring new meaning to terms like "clutch," "duffel," and "gym bag" – it was a brilliant move to keep the shapes classic and easy. Some with mohawks, others spotted, their naturalistic state is the perfect antidote to clothing, whether clean or embellished, so purposeful in its craftsmanship, so thoughtful in its treatment.
To counter the fur: beautifully devised bags of black leather, much of it piped with contrasting shades of maroon and royal blue, the best of it woven in a magnified fashion. Proenza classicists will take delight in these more minimalist creations, while those looking for something new and statement-making will obsess over the fur. But most of us will want it all!
Akira Bag, $4,595, and Large Chieko Bag, $1,295, available for pre-order at Proenza Schouler.