I have been a Ralph Lauren girl since I was a teenager. From classic preppy polo shirts and cashmere sweaters to immaculate velvet smoking jackets and sequined leggings (yes, Ralph makes the best skintight sequined leggings on the planet – I bet you didn't know this!) to bed linens, picture frames, and sick shearling boots, I am loyally addicted to it all.
But it's only been in recent years that I have gotten into Ralph Lauren's bags. (Aside from the Ricky, of course. I have several, including a rare white crocodile version.) I have been watching Ralph's ever-expanding foray into day bags closely: they've been known primarily for their exquisitely crafted clutches, but each season, the bag collection just gets better and more versatile. Now for Fall 2012, bag lovers are in for a real treat!
1. Gold Leather-Covered Frame Bag: This shimmering beauty is the standout of the new collection. Distressed and crackled gold pony-hair skin is unexpected in the form of a modernized doctor-style bag. There is also a smaller messenger style- my fave from Ralph this season.
2. Fold-Over Clutch with Serpent Detail: Rustic and rugged yet deeply sexy, as only Ralph can achieve.
3. Large Ocelot Printed Goatskin Clutch: Ocelot is rapidly cementing its place as the must-have animal print of the season. This elongated take on the pattern is so luxe!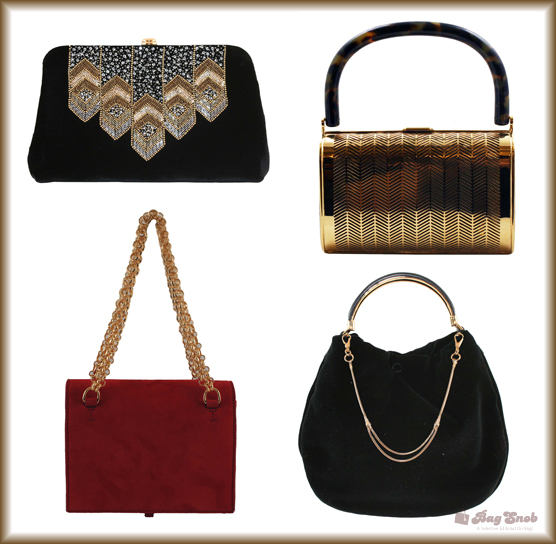 1. Square Chain Bag in Tomato Suede: Like Chanel's classic chain-strap bag, this is an instant must for luncheons, cocktails, and dinner parties.
2. Small Hobo with Metal: Slouchy chic at its best. I love the addition of the chain detail; it's the perfect way to spice up a laid-back hobo style.
3. Herringbone Etched Metal Top-Handle Clutch: Not only is this bag fascinating to the eyes, the craftsmanship is meticulous. This is my version of high art.
4. Beaded Frame Clutch in Black Velvet: Ornate details like this bring a strong sense of whimsy to the evening clutch – perfect for a winter's night.