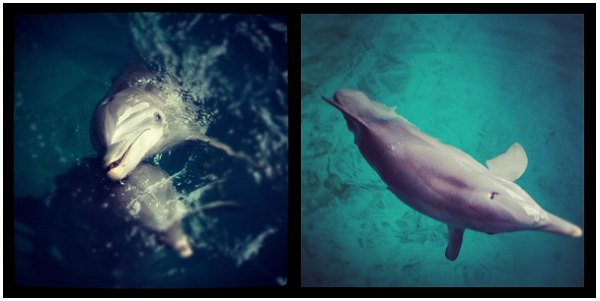 Dolphin Tale, the movie, is a true story about a dolphin name Winter who gets entangled in a crab trap and eventually loses her tail. The Clearwater Marine Aquarium is where Winter lives and where much of the movie was filmed. She played herself in the movie along with a few of her friends.
My girls are absolutely in love with Winter so we decided to trek across the country to visit her in real life (we just got back on Sunday!). It was a real treat for the whole family. The Aquarium is not a typical one, this is a rescue and rehabilitation center for injured marine animals. As in the movie, this non-profit facility was in dire need of financial support before Winter became famous. And now with the movie, they are busting at the seams, getting more visitors than they can handle. So even though it was a hectic experience, the small facility also made it possible to get up close and personal with the animals. We stayed until closing, which is 5pm, and the crowd thins out by then. You can go up to the window below the pool where the dolphins are and they swim right up to you to say HI (picture below)!
All proceeds benefit the aquarium and they are now expanding, so we decided to do the extras, like take a photo with the dolphins (it was with another dolphin name Panama). This is an experience my girls will never forget. I would highly recommend the hour and a half drive from Orlando if you are going there for Disney World. Clearwater is right outside of Tampa. Visit Clearwater Marine Aquarium for more information.
If you haven't seen the movie Dolphin Tale, the DVD is at Amazon
for $15.49. It's a very touching movie that you will love as much as your tots.