It's officially on! While there's so much action going on inside the "tents" of Lincoln Center (not to mention all over the city), there's a lot to be seen outside. The strong street style can make just as big an impact as the fresh designs for next fall. Here, a roundup of the bags of note so far, spotted on a few personal-style stars.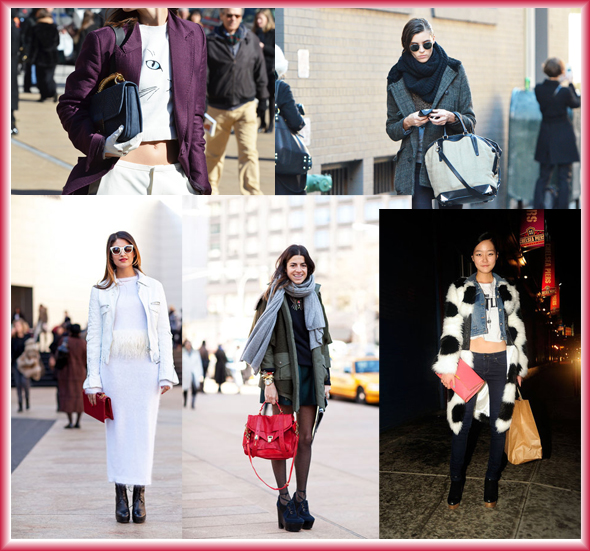 1) How good does Monika Chiang's Raja clutch look, nestled in with an oversized blazer of a complimentary berry hue and a sharp white driving glove? The cropped kitten-face sweater injects humor, a playful counterpart to Monika's gold bird-claw handle.
2) It wouldn't be Fashion Week in NYC without a whole lot of Alexander Wang. I appreciated the Emile tote back in the spring when it came out, and it's intriguing to see burlap take on a wintry feel, thanks to tweed and a cozy infinity scarf.
3) The beauty of a red clutch! This all-white ensemble is interesting, thanks to the mix of fuzzy knit, pebbly leather, and matching sunglasses, but you've got to admit: it would make little impact without that eye-catching jolt of scarlet.
4) Red bag, take two! ManRepeller's Leandra Medine proves Proenza's PS1 can keep on looking strong when you pair it with a creative mix of gigantic princess platforms, sheer tights, and a boyish jacket.
5) Paper or…leather? Somehow, amidst doubled-up denim, a bare midriff, wildly spotted fur, and yes, paper bag, this peachy-pink clutch stands out. Maybe it's the fabulously oversized scale that sets it apart.
Photos courtesy of Tommy Ton for Style.com, Mr. Newton for Harper's Bazaar, and Fashionologie.