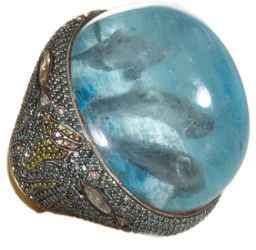 To say that master craftsman and award-winning designer Sevan Bicakci has an eye for the unusual is a serious understatement. Kelly was mystified by his amethyst ring, revealing what appears to be the ghost of a woman, a few months ago, but I'm more taken with these sweet dolphins! From Givenchy's fish-skin bags and shark-tooth pendants to Chanel's pearl-heavy adornments, it's clear "under the sea" is a big theme for Spring 2012.
Bicakci carved dolphins within an aquamarine stone, and trimmed the gem with a second underwater scene comprised of blue, yellow, green, and white diamonds for a mesmerizing effect. Also quite mesmerizing? The price tag! Imagine how many dolphins could be saved with just one of these rings! At Barney's New York for $45,585.
Pair with: Philosophy di Alberta Ferretti's pailette-embellished silk dress comes in pale hues of glittering sand – the perfect counterpart to a bold aqua-blue cocktail ring. On Net-a-Porter
for $1,295.