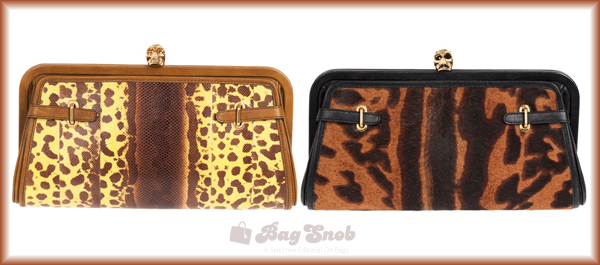 Meet Alexander McQueen's latest sensation: the Reversible Skull clutch. Aside from the obvious reasons to love this bag (sophisticated skins juxtaposed against McQueen's bad-ass skull, all neatly strapped in with polished hardware), it is also reversible! At long last, two McQueens for the price of one!
I'm loving their new sense of approachable elegance – this is a softer, more wear-able route than the awe-inducing knuckle-dusters. Happily, the hardcore, Swarovski-encrusted skull is still here; he's just a little more relaxed now. Ocelot-printed pony-hair converts into military-green canvas, and spotted karung snakeskin becomes crisp white canvas. Two options, four bags: this is the kind of quandary I could get used to!
Ocelot, $1,945, and Karung, $2070, now at Alexander McQueen.com.
Pair with: Play the part of the rock 'n' roller with Chloé's enduring studded ankle boots. With an allover design of gold accents and buckles, these are hard-edged glamour at its most nonchalant. On Net-a-Porter
for $1,290.