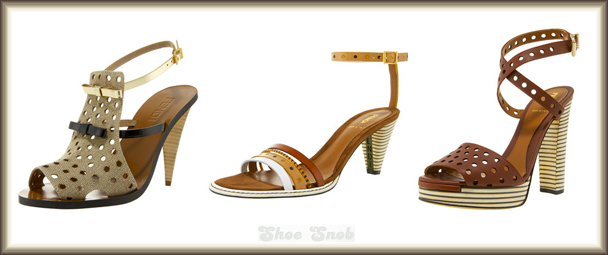 Why, hello! Fendi's Spring shoes are fantastic! It looks like the house has adopted a carefree attitude – not typical for them. Their lighthearted runway show said it all (even though it was apparently inspired a Nobel Prize-winning neurologist!), brimming with wild bouffant hair and acid-green sunglasses. But it's clearly the shoes I'm obsessing over.
I can't get enough of their perforated leather – which is a big look all-around from a host of designers this season, (for loads of bags, too). Fendi's punched-out leather is airy and flirty, and the stripy stacked heels and natural palette compliment them just right. My favorite of the "hole" bunch? The jute sandal with metallic straps. The bows kind of wink at you; they're just cute enough to not be too sugary sweet.
From city to beach, these are made to blend into your wardrobe while they stand out from the crowd.
Available at Bergdorf Goodman.
Perforated Jute Sandal, $795.
Multicolor Logo-Heel Ankle-Wrap Sandal, $540.
Perforated Ankle-Wrap Platform Sandal, $840.