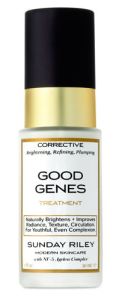 My mom has the best skin; she's in her seventies and barely has any wrinkles. I'm hoping I've been blessed with her good genes, but am I going to bet the state of my future face on luck? You know the answer: I bet on prevention, always!
Sunday Riley's Good Genes corrective treatment will give you all the benefits you get from having, yes, good genes. And it isn't just for prevention purposes. Use this continually and you will reverse damage (from UV exposure, acne scars, daily wear and tear), while increasing the thickness of the epidermis, so your skin won't crumple with age. It irons out lines, evens complexion, and reduces hyper-pigmentation. The result is a bright, youthful glow with a silky texture.
I have been using it for a week and I already see dramatic improvement; the brightness is the most noticeable. I look in the mirror in the morning and my skin is so good, I don't even put on makeup. Just sunscreen and I'm ready to go, looking rather fine! Not many products out there produce immediate results that actually appreciate with prolonged use – you usually get one or the other. Use it for five days to give your skin a boost, or if you have real damage and problem areas, use it continuously.
The treatment comes in a glass jar to prevent leaching (which plastic can cause), as well as preserve the freshness of the product. Sunday's Texas-based company is completely green and the ingredients are all natural…which could account for the scent. It's not the most pleasant, but it's because no artificial fragrances are added, it doesn't smell bad. Just is a bit sour and strange. Small price to pay for good genes! At Barneys New York for $105.