I'm off to Miami next week with the boy to decompress after Fashion Week chaos and spend some quality time with him in the Florida sun! But first, I need to spend some quality time shopping. As much of a downer it can be to track down the perfect bathing suit, it's worth it even the end! Even more important is the cover-up; this trip, I'll be sporting simple sundresses that can be dressed up, down, and all around.
1) Dolce & Gabbana and Space: High-waisted bottoms and a structured top are thoroughly retro, especially in sweet polka-dots. Shake it up and inject a bit of St. Tropez chic with Space's crochet-knit dress.
Pois-Print Bathing Suit
On Luisa via Roma
for $453.
Cotton Crochet Knit Dress
On Luisa via Roma
for $268.
2) Zimmerman: This flippy, flirty leopard sundress makes for a mix of laidback ease and spotty flash – perfect for South-Beach afternoons hanging by the pool. With the semi-coordinating Femme bikini, it's a coherent look that's not too matchy.
Leopard-Print Cotton-Voile Sundress
On Net-a-Porter
for $280.
Femme Triangle Bikini
On Net-a-Porter
for $175.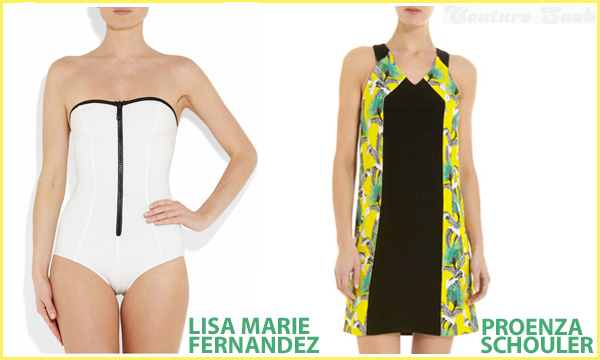 3) Lisa Marie Fernandez and Proenza Schouler: Sporty-meets-glam with Lisa Marie's bright-white bathing suit, set off by an athletic zipper. Take your swimwear into evening by pulling Proenza's crepe-jersey, fern-print dress on top.
The Leigh Bandeau Swimsuit
On Net-a-Porter
for $495.
Fern Dress
At Barneys New York for $1,295.