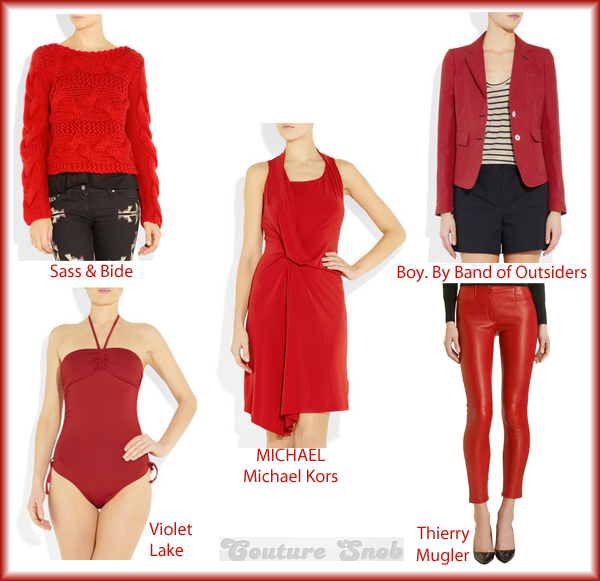 Whether you go all out with a mega-bright or take it easy in a muted tone, red is the new black. Why shouldn't it be? It's powerful and somehow still neutral (the ultimate primary color, if you ask me). And it will perk you up whatever the time of day. You'll be all set if you have the red variation of each of these pieces. From the party to the pool, getting dressed is easy when you have an eye-catching go-to piece for any occasion.
1) Mugler Skinny Pant: Of course, leather is the hottest – and most scandalous – choice but red pants of any kind must be in your closet this season. Think of them as an instant confidence boost. At Barneys New York for $2,370.
2) Sass & Bide The Trademark Merino Wool Sweater: Pull this wide-weave, chunky knit sweater on with ease and outshine all your friends effortlessly. On Net-a-Porter
for $430.
3) MICHAEL Michael Kors Gathered Stretch-Jersey Dress: A well-gathered jersey dress will take you far. In red, it's an automatic scene-stealer. The only problem: how do you keep turning down the men in this? On Net-a-Porter
for $120.
4) Boy. By Band of Outsiders Linen Schoolboy Blazer: Nothing takes you from drab to fab like a red jacket. Cute and cropped, this one pops with contrasting white buttons. On Net-a-Porter
for $1,010.
5) Violet Lake Bibi Drawstring Bandeau Swimsuit: You've worked hard at the gym all year. Now, a red swimsuit is definitely an essential. Hey, remember Phoebe Cates' bikini in Fast Times at Ridgemont High? Eternally hot! On Net-a-Porter
for $225.