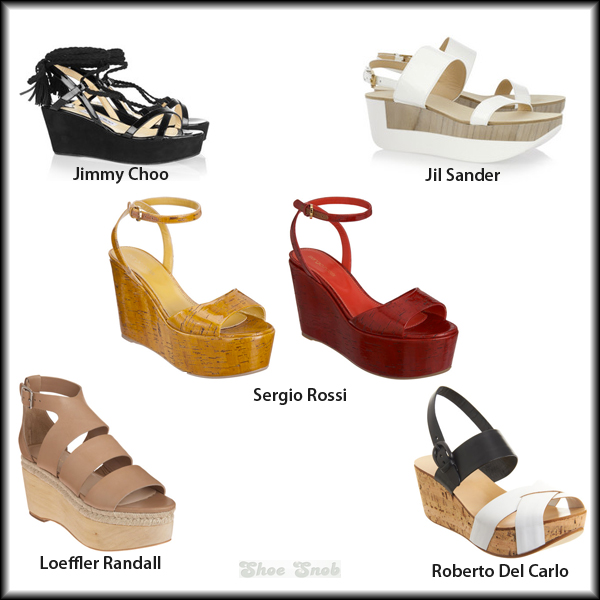 It might sound like an oxy moron, but there is nothing incongruous about the new flat wedge. Maybe I'm especially drawn to them because of my ankle injury – then again, they could still do damage if I took a spill. As long as you stay stable, you get the comfort of your easiest flat with a boost of height we can all appreciate. These unfussy, chunky sandals are a modern take on the feminine wedge. From work to playtime, you can wear these all day, no back pain required!
1) Jimmy Choo Poppy Suede and Patent-Leather Wedge Sandals: This 1" platform is the sandal you'll be wanting to toss in your suitcase when you're packing for your next beach vacation. Braided tassel straps reinforce the exotic-relaxed feel. And the patent means you can take it out for the night. On Net-a-Porter
for $695.
2) Jil Sander Patent-Leather Platform Sandals: As architectural as a sixties-mod sculpture, these graphic blocks of white leather, creamy rubber, and blonde wood will be the right fit for shift dresses and crisp shorts alike. On Net-a-Porter
for $550.
3) Sergio Rossi Cork Wedge Sandal: We've come to expect a wedge in earthy cork, but when it's a shiny all-over look, it takes on a totally different feel. One that I'm liking in both hues. At Barneys New York for $595.
4) Loeffler Randall Sasha Sandal: Layers of ultra-thick straps, an espadrille band, and pale wood makes for a trifecta that will appeal from spring to Labor Day. At Barneys New York for $390.
5) Roberto Del Carlo Two-Tone Sandal: Black and white and cool all over. You can't technically call it "colorblocked" when there are only the basic shades involved. Which is why this sandal won't grow tired. At Barneys New York for $520.