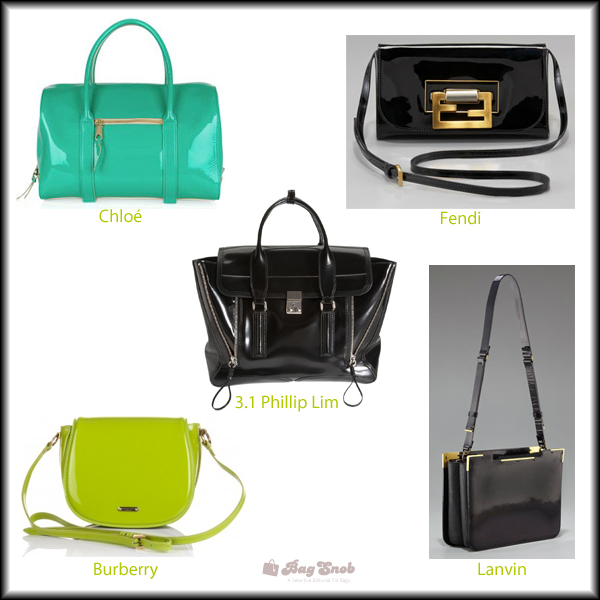 After a long winter, bring on the shine! Not sunshine, silly. I'm talking about patent-leather shine, the gleaming texture that will look lovely in April showers. Whether you opt for a cheerful bright or classic neutral, squeaky-clean high gloss will bring brilliant texture to any outfit.
1) Chloé Madeleine Patent-Leather Duffle Bag: Seafoam is popping up everywhere this season. It's no surprise – the color makes for an early spring pick-me-up with a quirky twist, especially in the form of a casual duffle. On Net-a-Porter
for $2,395.
2) Fendi Patent-Leather Pouchette: Something suddenly looks so brand-new about their trademark double-F. The artistic, brushed gold-and-silver spin certainly doesn't hurt. At Bergdorf Goodman
for $1,030.
3) 3.1 Phillip Patent Pashli Satchel: Lim's bags made a big showing outside the tents of New York Fashion Week, and it's easy to see why. Accessibly priced high shine goes practical with smart city edge. At Barneys New York for $895.
4) Burberry Prorsum Patent-Leather Shoulder Bag: A burst of lime looks smooth in minimalist patent leather. Toss it over monochrome day looks of black, tan, or white or contrast it against fuchsia, aqua, or lilac. On My Theresa
for $815 (from $1,345).
5) Madame Lanvin Shoulder Bag: Architectural lines, hints of geometric hardware, and a boxy shape look just right in burnished leather. Ladylike meets edgy with real finesse. At Neiman Marcus
for $2,485.