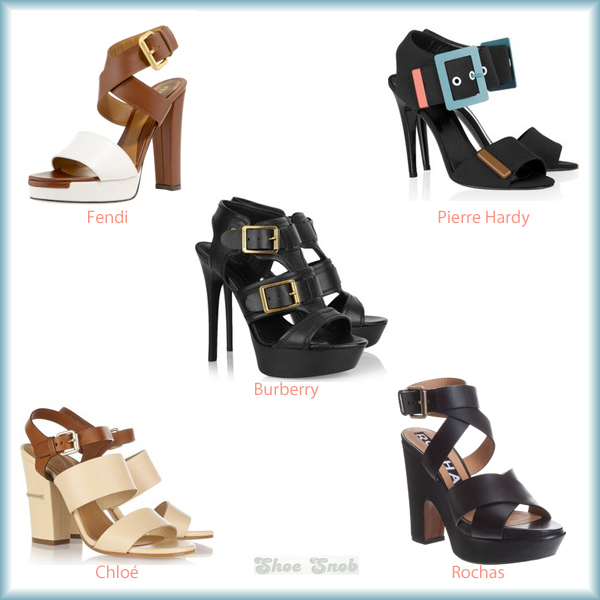 The Fall 2012 shows presented us with a hardened take on glamour – very urban, a rough breed of polish. We especially saw a lot of robust and hearty straps on the runway, courtesy of shoes by Proenza Schouler, Rodarte, and Michael Kors, to name a few. But there's no reason to wait another six months to hop on board. There's a plethora chunky-strapped sandals already out there, so you can get a head start on this anti-dainty trend long before Fall's runway shoes hit the streets.
1) Fendi Platform Ankle-Wrap Sandal: Colorblocking that would never even register – Fendi does it just right, using neutral tones and thick, sophisticated straps. A quirky front-platform panel of chestnut creates a stir. It's all in the details.
At Bergdorf Goodman for $695.
2) Pierre Hardy Metal-Trimmed Neoprene and Leather Sandals: The heel may be slim, but Pierre's energetic straps are anything but. Jolts of aqua-blue and pink make the wide straps extra-fun.
On Net-a-Porter
for $795.
3) Burberry Buckled Leather Sandals: Who knew chunky, buckled straps would become Burberry's signature shoe detailing? They have toughened up their preppy British image over the past few years, and these platform-meets-stiletto sandals possess timeless versatility.
On Net-a-Porter
for $695.
4) Chloé Two-Tone Leather Sandals: It looks like Chloé is returning to their old, relaxed, and understated ways. These sandy spring sandals evoke sunny afternoons, whether you're strolling foreign streets or taking a lunch meeting.
On Net-a-Porter
for $640.
5) Rochas Platform Sandal: Transition seamlessly into spring with this moderate platform, equal parts sleek and beefy. The smooth cutout heel and classically positioned straps make these one of the most versatile pairs of the season.
At Barneys New York for $895.