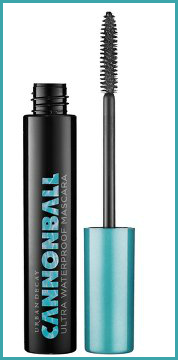 Sweat, swim, splash, and, yes, take a cannonball-style plunge into the water. And even bawl your eyes out if you want to! Urban Decay's Ultra-Waterproof mascara can withstand all the elements, whether you're doing a long-distance butterfly-stroke or taking on white-water rapids. Not that those are my typical weekend activities.
But I did test Cannonball through all-day wear, a four-mile run, a shower, and even a tear or two (okay, I admit it: I watched The Notebook and it made me cry a little! Strictly for snob-test purposes!), and the stuff didn't budge.
Also, it's unlike other waterproof mascaras because it's made to keep your lashes soft and lush. Their exclusively Japanese formula is made with microcrystalline wax to increase volume and length. My favorite part, other than the high endurance factor, is that there's none of that coarse flaking. Lashes stayed feathery-natural through it all.
At Sephora for $20.