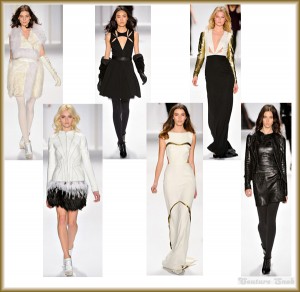 With precision-perfect craftsmanship, innovation of fur, evening dresses with endless sexy-louche appeal, J. Mendel presented one of the most beautiful collections of the week! At CoutureSnob.
Coquette says go bold with color this spring with a colorblock mix of pink and reds.
What makes you feel more protected – and more tough and powerful – than a great pair of boots? Proenza Schouler at ShoeSnob toyed with the concept of "protection" for Fall 2012.
Lots of new exciting beauty looks have been making their way down the runway. Check-out some of the recent standouts at BeautySnob!
The Jet Set Girls love the Jimmy Choo Cruise 2012 Collection.
This Alexander McQueen gold skull bangle bracelet is the perfect addition to Shopping and Info's must haves for a spring 2012 Arm Party..