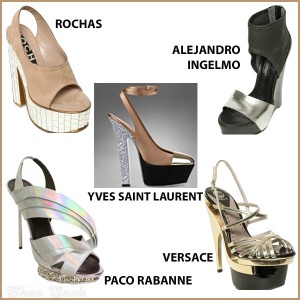 It's time to shine! You can do that with ShoeSnob's Top 5 High-Shine Stunners!
This Means War costume designer Sophie de Rakoff pens "A Letter to Barneys From a Costume Designer Stuck in Canada" on Stiletto Jungle.
Allie is Wired has the video of Jennifer Aniston's adorable boyfriend Justin Theroux breakdancing on Ellen.
As we age, our hormones inevitably change, and these changes have many effects on our bodies. BeautySnob has the answer! Murad Resurgence Anti-Aging Line: To Hell With Changing Hormones!
Want to look younger today? Try the bright pinks in Clinique's new expanded Almost Lipstick Honey Line. The Jet Set Girls are wearing it!
Zoe Saldana, who seems to do no wrong when it comes to getting dressed lately, did just that when she arrived at Prabal Gurung's Fall 2012 show at New York Fashion Week. See her look at CoutureSnob!
Second City Style was looking for something new and different for Spring '12…not the same old retrend and is excited to see Scarf Prints.
If you have a super-girly girl, My Princess Closet: Super-Girly Goody Bags will be a huge hit. At TotSnob.
Shopping and Info is loving this spring trend: white dresses from designers like Diane Von Furstenberg and Theyskens' for Theory .
The Beauty Stop has a video explanation of how to create the popular "sock knot" bun hairstyle.
Having a bubbly party? You must wear Judy Geib Moonstone Bubbly Earrings! At JewelSnob.