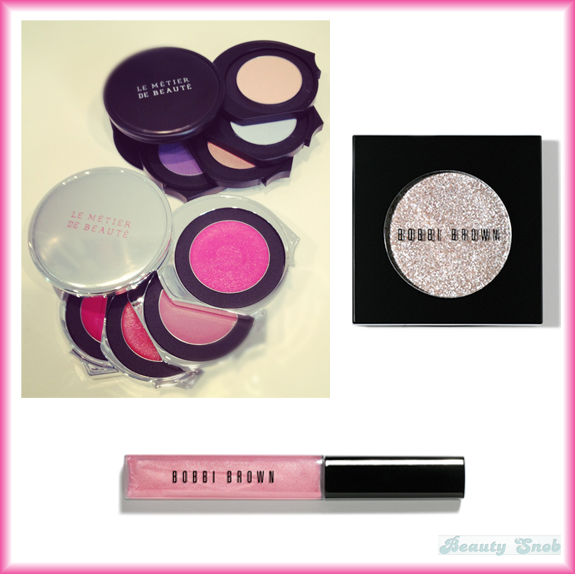 Spring doesn't just mean it's time to start faking a tan again. Looking un-pasty is also all about brightening up your face with new makeup! This season, Bobbi Brown and Le Métier de Beauté have put their brilliant creative energy into giving your face a brilliant energy of its own.
The name of Bobbi's spring collection says it all: limited-edition Brightening Nudes are designed to make you "look like you're lit from within." The new Sparkle Eye Shadows ($28), in shades like Mica (deep heather gray) and Ballet (light pink glitter) give a wash of brightness with no heaviness at all. Her Brightening Lip Gloss ($23) – now in a larger, more luxurious size! – will energize your lips and make them look extra-full. Lilac Pearl, Pink Lilac, and Pink Opal all offer candescent shine.
With their Northern Lights collection – which, according to Director of Color and Education, Mikey Castillo was inspired by the idea of "watercolors in the sky" – Le Métier de Beauté is offering subtle yet impactful colors with a prismatic aura will perk up your face in a hypnotizing way. The Kaleidoscope Eye Kit ($95) lets you blend: Ionic (satin, neutral-sunset shade, Sky (pale shimmering blue), Magnetic (blazing copper), and Equinox (satin violet). The Aurora Kaleidoscope Lip Kit ($95), lip gloss in a crème formula, is designed for you to play with the shades, so you can interpret the colors the way you want. It includes: Illuminate (shimmering hot pink with sheer finish), Voltaic (satin nude), Dynamos (effervescent coral), and Eos (opaque fuchsia). Don't be afraid to layer these on top of each other – and don't be afraid to shine brightly!
The Northern Lights collection will be available mid-March at Neiman Marcus.