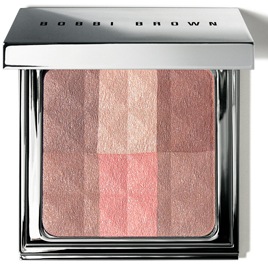 As you read this, I am sitting on South Beach. But don't worry, I would never risk exposing my face to harmful UV rays. I'm under my umbrella, hat on my head and might possibly even have a robe over my bathing suit. (Until 3pm at which time I will tan my body only for an hour- after all, a girl needs her natural vitamin D once in a while!)
No matter what time of day, my face, neck and chest are never exposed to the sun without at least SPF 50 and some sort of hat if I'm outdoors. I prefer to get color on my cheeks via bronzers and products. Each summer I look for that one perfect bronzing powder. My bronzer criteria: one that doesn't make me look too tan, too orange or the worst- too streaky (eek!). I need just a hint of a well-rested glow with just a hint of color. And Bobbi Brown has finally done it. Brightening Finishing Powder is my go-to this season with its varying shading of nude, pink and bronze. You can blend to your delight and shimmer without high shine.
You can even take the glow on the go. The cute compact has a mirror to keep you bright all day long. Here's to healthy skin and perfect products!
Bobbi Brown for $50.