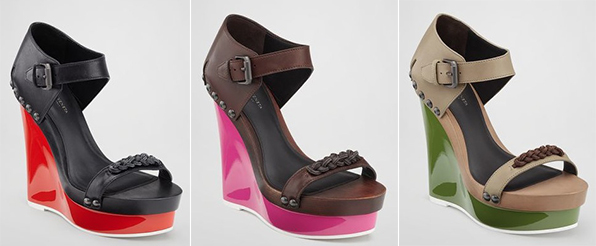 This is the most colorful shoe collection from Bottega Veneta I've seen so far! Not only are each of the Cuir sandal's three renditions brimming with juicy color, this shoe bursts with lighthearted, good-time spirit.
Vivid shades and a lacquered wedge bring a playful twist to this classic platform shape. The brand was obviously intending to take it nice and easy – all that serious Bottega Veneta leather and wood (which, of course, I still love) would be way too heavy. I'm really appreciating the lighter, brighter mood they've embraced as of late! And the neutral bodies, accented with casual gunmetal studding and a touch of braiding, bring a sense of substance to flirty hues of bright green and red. Naturally, I'm partial to the hot pink. It's such a dazzling contrast to somber brown leather, which is why pink and brown is an eternally chic duo.
Available in Cioccolato, Nero, and Dakar at Bottega Veneta for $820.
Pair with: Wear each and every one of these colorful numbers with Lanvin's versatile silk-gazar dress. The bountiful bubble skirt balances out a platform shape.
On Net-a-Porter
for $4,350.