Minerals and crystals dug up from the earth. Diamonds in the rough, made glorious with Karl Lagerfeld's magic touch. This season, Karl got captivated by crystals: "Nature's the greatest designer," he remarked. A runway resembling one big geode set the scene at Chanel, a spellbinding setting that was at once earthy and supernatural. And it came into life with harmonious blends of tweeds, glitter, exotics, perforation, and so much enticing shimmer!
Crystals are known for their healing properties, and if you believe in the lucky energy they bring, grab a crystal-heeled shoe or gemstone-topped bag. Even Chanel's quintessential tweeds got blessed with a brand-new aura, thanks to a glistening metallic weave. Rich yet subdued jewel tones were enhanced to the fullest courtesy of moonstones, rows of black pearls, and rocky, touchable, mineral-like textures. Karl has now unleashed highly innovative ways to re-do the definitive Chanel flap bag.
The instantly classic Boy bag makes another appearance for Fall 2012 (even shown on a tot snob on the runway!), now in royal blue and canary-yellow velvets set off by contrasting gunmetal chains. Swingy dangling straps suggested movement and gusto, while voluminous clutches exploded from the hand like plush little pillows. I particularly love the velvet clutch with crystal trim – such softness demands piercing punctuation. Karl gets my go ahead: rock on!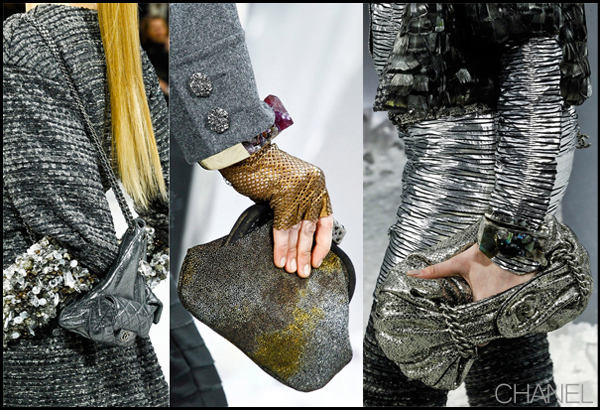 Photos courtesy of Vogue.