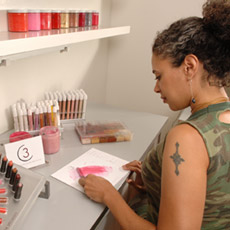 We've all had an eye shadow, lip gloss, blush, or foundation that we've absolutely loved suddenly go off the market and there's nothing more frustrating than feverishly trying to color match at Sephora. With that in mind Three Custom Color Specialists was created to offer custom blended color cosmetics for eyes, lips, cheeks, and face and for all skin tones. They've also got ready-to-wear products if you find yourself loving one of their pre-blended shades (they've got over 250!), and while custom color isn't a totally new concept, few brands can compete with Three Custom Color Specialists' archive of more than 9,000 discontinued shades of lipsticks dating back to the 1930s! Even more impressive every product is custom made to order in their color lab.
Here's the rundown of how it works. If you have a lip color, concealer, eye liner, eye shadow, powder, brow powder, lip liner, or blush that you can no longer buy you can use Three Custom Color's Discontinued Shade Search to search their extensive archive of discontinued shades by entering the brand name or color name. Alternatively, you can send them a dime sized sample of the product that they will then analyze for shade, texture, and coverage to create a formula that remains in their permanent files. Or, you can have them create your own shade from a splash of nail color in a baggie, a piece of fabric, a paint chip, a photo from a magazine, two lips colors blended together  — literally anything. I mean…how cool!??
If you're in NYC they have a Color Studio here, but you can check them out online or via their hotline at 888.262.7714 as well.