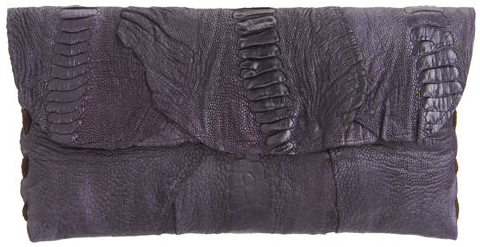 The name of this clutch sounds more like a description of a Chinese delicacy rather than what I'm going to carry my gloss and cell phone in. But that is the name of this Deborah Barnett ostrich clutch. The natural, organic shape is very interesting, but is it maybe too organic?
Let's be honest: there is something slightly disturbing here. The texture is a bit Klingon and a lot…how do I put this gently…testicular. The graphite-grey color and scalloped design of the front flap enhances the texture, making it look so natural and animalistic that it might be too much so.
On the plus side, the Ostrich leg is a great way to add texture and heightens the look of exotic- even a bit dinosaur looking with the scale-like detail. I do appreciate the approach: using the entire animal for that bit of intrigue. But this definitely crosses the fine line between cool and unsettling. So there you go, I do in fact pass on some exotics!
At Barneys New York for $550.