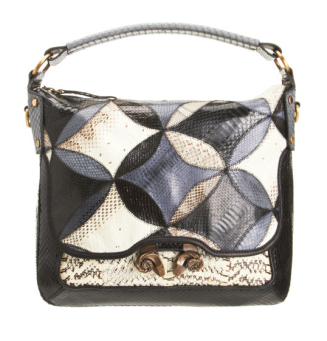 I'm sorry but if you're going to leave Tod's, your namesake line has to step it up. I have no problems with this bag's shape in general but doing it in a Venn diagram patchwork is just terrible. Pretty much, as a rule of thumb, the words "snakeskin" and "patchwork" should not share a sentence. But here they are, side by side on this satchel in various shades of blue, black and neutral.
I do like the different treatment of snake. Under the flap has a natural black and white pattern, which is great, but the flap should be one tone and no patterns. Like, if it were just in the blue snake, it would be a super cool color block look. But everyone gets three strikes and for Derek, this is only his first. I'm rooting for you, I really am, so help me out! No more of these please.
On Barneys New York for $2990.