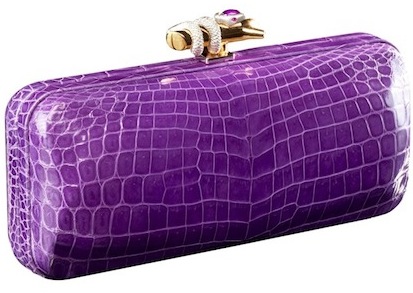 Be still my beating heart! I love nothing more than a flawless crocodile bag so you can imagine my excitement when my editorial assistant, Adam, showed me these Ethan K bags. Ethan Koh is known as an artisan with the personal touch. He personally chooses top quality exotic skins from Louisiana and Zimbabwe. And his involvement doesn't stop there: He also oversees the hand dyeing of each skin, which, according to Ethan, is a real art form.
The results are roomy totes and softly constructed satchels to structured clutches in brilliantly rich, bright hues of plum, turquoise and orange. Each bag is lightweight and impeccably constructed. Clasps are never off the shelf, but rather sourced from artisans. (Just take a look at the snake and hedgehog on these two clutches.) To finish off each bag, Ethan embosses the buyer's initials and bag's creation date. And just to remind us what these beauties are made from, a mini croc graces each bag's hang tag. How's that for detailed and one-of-a-kind.
Although I can't say I'm surprised at Ethan's talent and passion. He grew up in a family that specialized in luxury exotic skins. Ethan developed a natural appreciation for the craft and honed his talents and awareness of luxury goods while interning in Paris at Hermes and Louis Vuitton. Looks like all his dedication and passion is paying off for us in these amazing croc bags!
Ethan K can currently be found at Harrods, Couturelab, L'Eclaireur, and TSUM. Also, bespoke ordering is available. Check out his website for more information.