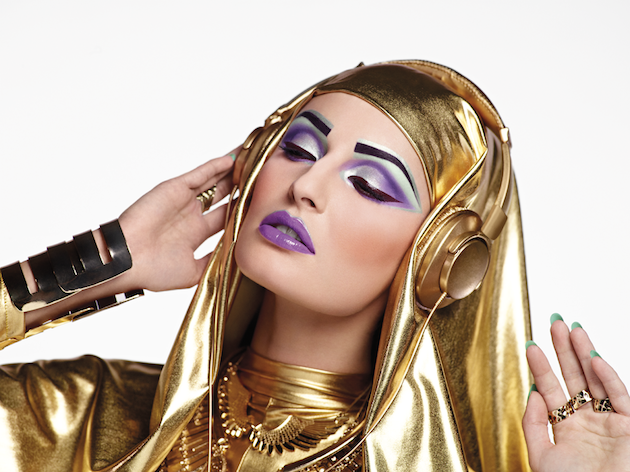 Intense name…intense colors! If you're looking for an alternative to MAC, Illamasqua is amazing for super intense pigments. Their latest collection, Human Fundamentalism, is choke-full of the brights and metallics that have made them a go-to for the adventurous, but it also has some neutral toned (still highly pigmented though) eye shades for those looking for an intense, but less colorful look. The limited edition collection includes two palettes ($42.50 each), each in a super unique and lightweight shape. I've been using the Neutral one and the four shades easily work individuality or together. I've been applying chocolate brown and then layering over the antiqued gold (the only shade that has shimmer out of the four), and it makes for a great day-to-night look with some black liner and black mascara. They've also got the Fundamental Palette, which is perfect for any ladies out there looking to re-create the bright runway beauty looks we saw this season…seriously, yellow!
Individual shadows come in Burst (blue green), Pivot (yellow green), Cancan (lilac purple), and Sex (white), and they're $20 each. The great thing about the more out-of-the-box colors is that because they're so rich you can opt to go classic with your shadow base and then just dab a hint of one of these bold colors or you can go bold all the way. Alternatively, you can go classic with the neutral palette and then liven up your look with Scribe ($27.50), they're new white liner (it has super-fine tip and apparently it also doubles as a nail art pen – just don't forget to seal it with a top coat).
Boss Lipstick ($22, a deep, deep red – think Dita von Teese!), and a bright purple gloss ($20, hey it looks good on the model above…), along with two polishes (Stance, a bright mauve, and Nomad, a bright jade) are also part of the new collection.
Shop the collection at Sephora.